I donate 5% of this blog's revenue to the Leave No Trace Center for Outdoor Ethics, so you're helping save the planet by clicking on any affiliate links or ads that may be on this page!
San Andres Island in Colombia is one of the most amazing Caribbean islands I've ever visited. Its white sandy beaches, crystal clear waters and laid-back vibes will have you hesitating to go home and anticipating your return.
I stumbled upon the 10-square-mile island, which lies 90 miles off the coast of Nicaragua, because I was seeking to extend my time in Colombia, didn't want to stay in Cartagena any longer and decided not to do Bogota or Medellin.
And, my oh my, I'm so glad I stumbled upon this small island of sun, sand and Coco Locos!
But, wait just a minute.
Before you go booking your trip to paradise, there are some things you need to know before you go. These five important points are what I wish I would've known beforehand:
1. You Need to Buy a Tourist Card
When you're entering San Andres Island — from anywhere in the world — and are not a Colombian resident, you must pay a tourist tax to exit the San Andres airport.
It costs $108,974 COP ($35 USD) and must be paid in cash. That means in Colombian pesos only! Don't worry, there are plenty of ATMs in the airport if you forget cash.
What about if you forget to buy a tourist card before arriving in San Andres, though? You're supposed to buy the tourist card at the airport you're flying out of and have it ready for the customs officers when you're exiting the San Andres airport.
Oops. I completely forgot to purchase one and was utterly confused when I got to the island's airport.
An officer came over and looked at my passport to see where I was from and where I had been. Then everyone on my airplane got through customs and disappeared.
Still standing there and speaking very broken Spanish while nobody else spoke any English, I was seriously worried that I wouldn't get in.
Then the officer showed up with a three-page document to sign, took my money and presented me with a brand new tourist card!
So if you forget to buy a tourist card at the departing airport, don't worry, you can buy one in the San Andres airport. However, I would strongly recommend just buying one before you take flight. It'll save you time, trouble and the uncertainty of denied entry.
You don't need a tourist card to visit mainland Colombia, so don't worry. But there are some extra tips you may need to take with you to the country.
2. San Andres Island, Colombia Is a Tax-Free Island
Since San Andres is technically a Colombian territory and lies closer to Nicaraguan waters, the island is considered a duty-free zone and there aren't any taxes on the island. That means, for select things, your money goes a little bit further than it would on the Colombia mainland.
Alcohol at a convenience store or supermarket is actually cheaper on San Andres than it was in Cartagena. Hello, Jack Daniels!
I got a pair of decent sandals for $3,000 COP ($1 USD), a T-shirt and towel for $10,000 COP ($3.24 USD) and a set of pretty basic goggles, snorkel and fins for $40,000 COP ($13 USD).
There are certain things that are far more expensive than the mainland, though. Accommodations, restaurants, excursions and rentals are the most notable.
In USD, you can find dorm rooms in hostels from $12 to $30 per night through Hostelworld. Hostel privates will run you from $40 to $100 per night. If you go through Booking.com, you'll pay from $12 to $370 per night. I stayed in Viajero Hostel, which has a rooftop bar/breakfast area overlooking the ocean, and paid $19.80 per night for five nights.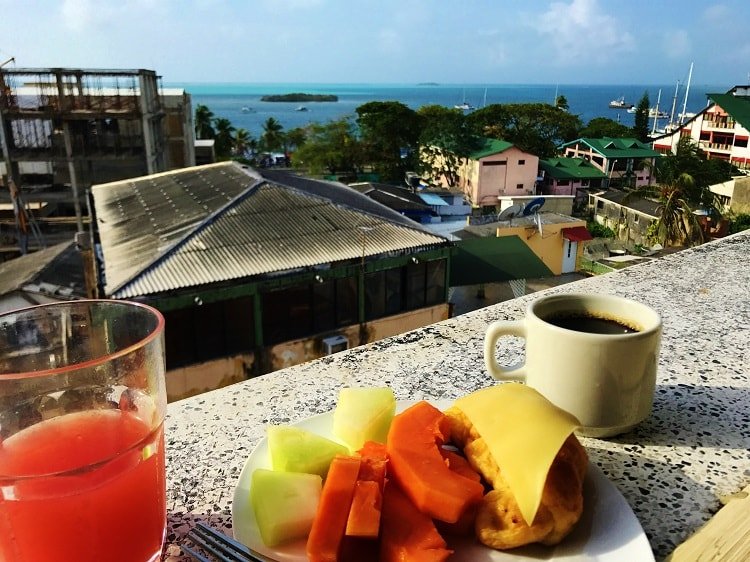 Also in USD, nice restaurants on the beach can be in the range of $15 to $50 per meal, depending on what you want to eat and how fancy the place is.
There are still a ton of little hole-in-the-wall joints that serve amazing food for even better prices. My suggestion is to find one of those places and pay about $3 USD for a three-course meal that includes a soup, salad and very healthy entree portion.
3. You Should Haggle Prices
Interluding into this statement from the previous statement about expensive prices for excursions and rentals, know that you can always haggle those prices down pretty reasonably.
You can — and should — haggle prices for everything possible! Especially do some haggling for Coco Locos, which are freshly cut coconuts filled with tasty coconut water and a few servings of rum.
It's important to note that I usually don't haggle prices for things like accommodations, restaurants and supermarkets because those entities usually have fairly firm pricing (and definitely don't be like me and try to haggle the price of your tourist card after you've already messed up and forgotten to buy one).
But if you come across a small shop that's selling a shirt you really want for a price you really don't want to pay, go ahead and start the haggle!
The key is to start low, but not too low so you don't offend anyone, and then work your way up to meet in the middle. Chances are good that you'll get a price you like and they'll get a profit they like.
If you don't come to an agreement, I can almost guarantee there's someone else on the island willing to sell at your price.
4. English Is Widely Spoken on San Andres Island
To the natives of the island, San Andres is Caribbean through and through. Many don't associate as Colombian, so they try to speak as little Spanish as possible when they don't need to.
They're extremely intelligent people, who speak Spanish, English and Creole fluently. That being said, there are only a few thousand native islanders remaining on the 67,000-population island.
It's now widely populated by Colombians who have decided to try their hand at the tourism industry on this spectacular island. Many of them speak broken English, but it's still enough to get by.
5. Never, Ever Eat the Pork
If I were you, I'd just try to trust my instinct. I ate pork on the second to last day on the island and I paid for it for about four or five weeks afterward.
I wound up catching a parasite that made me the sickest I had ever been for two weeks and hardly able to hold anything down for a solid four.
Besides the pork incident, there are also some other things you may need to know before traveling to the rest of Colombia.
Related Articles:
Get the Right Gear for Your Next Adventure Today!