Hi! I'm
Jarrod
Nice to Virtually Meet You!
Welcome to Ramble Around the World! I'm Jarrod, the guy behind this website geared toward camping, hiking and outdoor travel tips, as well as guides to National Parks, National Monuments and other amazing outdoor paradises.
On July 9th, I departed Florida on a 5.5-month road trip through some of America's most incredible places, where I'm car camping and exploring as many amazing National Parks, National Monuments and outdoor destinations as humanly possible. During the week, I'm staying in free hotels (I've racked up a few hundred thousand hotel points over the years that I'm finally putting to good use) and I'm primarily camping on the weekends.
For me, travel started when I was just a youngster, a family of five packed in a minivan and cruising to Florida, Texas, the Carolinas and wherever else we decided to ramble once or twice a year. (I wound up falling in love with Florida and moved to Orlando for college in the summer of 2012.)
But pinpointing my love for travel dates back to the time in college when I randomly and impulsively bought a roundtrip flight to Philadelphia (of all places because it was $58) one Thursday and took off on a solo trip the next week. The key words are random and impulsive. It seems most of my travel escapades begin that way. A few months later, a buddy and I flew to Vegas for an 11-day road trip to Sin City, the Grand Canyon, Phoenix, San Diego and Los Angeles. Yup, I had caught the travel bug.
It was during those two trips (I had already launched a now-defunct blog about the St. Louis Blues and was the sports editor at the University of Central Florida's school newspaper) I came up with the idea for Ramble Around the World.
It took five years, lots of traveling and even more procrastination until I finally launched this blog in March of 2019 — when I was recovering at home from extensive ankle surgery and decided I would use my time wisely, stop procrastinating, write a ton of articles and build a website on the domain name I bought five years prior.
But I'm a firm believer that everything happens for a reason. And, even though ankle surgery knocked me off my feet for about 4.5 months, more good came out of it. My ankle isn't in constant pain anymore, I launched the blog and my amazing boss let me work from home! (One of the reasons writing intrigued me in school is the flexibility to work remotely and not be tied down to a desk and chair from 9 to 5 every day).
Fast forward again and it's January of 2020. After working remotely and strengthening my ankle for eight months, I moved out of my apartment, donated and sold everything I didn't need, temporarily moved back in with my parents to save money and ride out the winter in Florida and planned an epic trip across the U.S. and Canada that was set to begin March 28th.
Well, due to the pandemic, we all know the next part of that story. But, as I said, everything happens for a reason. And hit the road with a new plan since I couldn't rely on small coffee shops for wifi. That's where the hotels and Airbnbs came into play, which turned out to be a much better plan than camping for 5.5 consecutive months.
Anyway, while I'm on the road creating content, here are a few interesting facts about me:
• I have a bachelor's degree in journalism from the University of Central Florida
• My first jobs out of college were as a journalist for Golfweek magazine and the PGA Tour
• I sold my soul to corporate America to become a copywriter in 2017 (best decision of my life)
• Eating mac and cheese, fried chicken and brownie batter makes me happy
• I grew up in a small town in Southern Illinois outside of St. Louis (go Blues!)
• I played competitive ice hockey from fifth grade to 12th grade
• I'm a golf fanatic. If you are too, shoot me a message and we'll play a round
• I haven't had a haircut since October of 2019 (Wowza!)
My Mission
I absolutely love the outdoors and wouldn't know what to do if trails, campsites and other tools of the road didn't exist. I also want the outdoors to stay pristine so the next generations of people can enjoy National Parks, State Parks and other undeveloped pieces of majestically beautiful lands just as we can today.
To spread awareness and help conservation efforts, I donate 5% of this blog's earnings to the Leave No Trace Center for Outdoor Ethics. The organization helps to protect the outdoors by teaching its tactics and mantra to millions of people each year and cleaning up trash and restoring human impacts on the outdoors across the United States.
About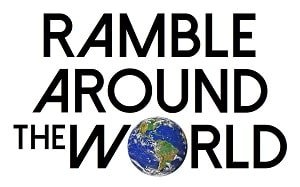 I launched Ramble Around the World to bring accurate, informative information from a first-hand perspective to everyone who wants or needs it. You won't read anything on this site that I haven't personally done — but if you do, I clearly state that I didn't get around to doing it but further researched it to give you an unbiased opinion.
The original motto of this blog was "Travel More, Stress Less" and I firmly believe that motto is still at the core of this website. I've just narrowed it down a bit. For me, life is too short to spend slouched behind the same desk Monday through Friday, living for the weekends and federal holidays, as I work up the rungs of the corporate ladder just to make a "comfortable" living.
If that defines you, it's OK. But let me help you live those weekends and federal holidays outdoors! Because I believe everyone should have the freedom to enjoy living life and not simply living to work. And that's the mantra I bring to this blog.
Don't get me wrong, I absolutely love my day job, but being able to do it remotely while traveling the world makes it so much better. And I work more now than I ever have in my life — but being a full-time car camper allows me to trade in monotonously watching TV for soaking in sunrises and sunsets, hiking the trails most people dream about, exploring the backcountry and so much more. Simply, living life.
And that's why the new motto of this blog is "Camping, Hiking & Outdoor Travel Tips." Not much of a motto, I know. But I want to make sure you know what to expect from this website — and I promise to always bring you the best, most well-researched content on the internet.
Here's the Kind of Content You Can Find on This Site
OUTDOOR TOPICS