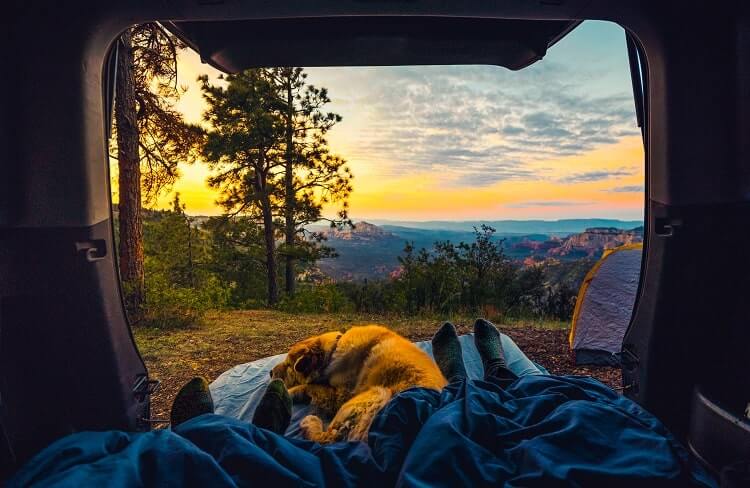 I donate 5% of this blog's revenue to the Leave No Trace Center for Outdoor Ethics, so you're helping save the planet by clicking on any affiliate links or ads that may be on this page!
Whether you're car camping in a car, truck, SUV or non-converted van, creating a great environment for camping in your car is crucial to your comfort and enjoying life on the road. A few simple DIY car camping hacks and ideas are just what you need to take your game to the next level.
From car camping window covers that give you privacy and prevent you from rising with the sun every morning, to a DIY camping table that's big enough to cook on, and many more, these are the ultimate living in your car hacks and ideas that make car camping the most enjoyable experience — whether you're a full-timer like me or you're a weekend warrior who gets out as much as possible.
1. Organization Is Everything
While having the necessary supplies is crucial to your car camping setup, keeping everything organized while camping in your car will make your experience much better and keep you sane. My camping tips and tricks include using organizational bins to keep all of my car camping gear in place — and putting everything back I found it is the final step in that process.
I have two plastic bins in my trunk. I prefer the drawer style instead of the large bin because it helps me keep everything organized better — and separates my clothes from my coffee grounds and food. That's extremely important when you're hiking in bear country.
As long as you put everything back where you got it in the first place, staying organized will be easy. As soon as you throw one thing in the wrong place in your trunk, it's a slippery slope from there. And if you're a full-time car camper like me, cleaning your car once a week is as important as cleaning your old house or apartment.
2. A Comfortable Bed Is up There With It
Ok, while I truly believe organization is everything, getting a comfortable bed is right up there with it. If you don't have a comfortable bed to sleep on, you're gonna have a bad time (I hope someone caught that South Park reference). Seriously, sleeping on your car's seat may be doable for a few nights, but over the long term, you'll start waking up more groggy and become like a sleepwalking zombie on the hiking trails.
Shop These Comfortable Travel Mattresses
3. Only Bring the Car Camping Necessities (And a Few Comforts)
Car camping is all about minimization, reducing your worldly belongings down from the comforts of society to the necessities you use on an everyday or every-other-day basis. When you're camping in your car over an extended period, your car camping necessities evolve into a melting pot of things you find useful, but aren't using every day.
That's quite alright. Bringing a few comforts on the road is never a bad thing as long as they don't take up too much space or cramp your style. For instance, I love my zero gravity chair, but I don't necessarily need it. A regular camp chair does just fine (I also carry a foldable camp chair with me), but I choose to bring the zero gravity chair with me because I found a way to make it fit.
4. Toiletries Bring the Comfort of Home (And Keep You Sanitary)
You may not realize it now, but having the proper toiletries in the right places is one of the best car camping hacks you can do. Put velcro on the bottom of a few hand sanitizer bottles and scatter them throughout your vehicle for easy access. I velcroed one to the inside of my trunk and another on the passenger door because I'm more frequently at those spots with dirty hands.
One of the best living in your car hacks is to create what I like to call shit stations. We all do it, it's cool to talk about (but maybe don't mention it to randos you meet at campsites). In a small stuff sack, put a roll of toilet paper, a bottle of hand sanitizer, a shovel and a bag of wet wipes. You probably won't be camping every night at sites with bathrooms, so this makes an easy grab-and-go kit when you need to go, especially if it's in the middle of the night.
5. Create Car Camping Window Covers for Privacy
As I specified earlier, DIY car curtains give you some privacy and prevent you from rising with the sun every morning. Car camping window covers are necessities that everyone needs. Plus, they're super simple to make. You can use an old bed sheet or an old shirt, then prop them up with binder clips or velcro.
One of the best car camping ideas is to skip the white sheets or shirts and go with something darker. The sun will have more trouble popping through the dark colors. If you want to get fancy, use tye-dyed shirts or something with some flair (like mountain or ocean prints) to make your car camping experience feel more like home.
6. Crack the Windows at Night
Cracking the windows at night prevents the entire car from fogging up, getting too hot and complementing a buildup of moisture — which is the last thing you need. It may sound like a simple car camping hack, but it's a goodie for sure. A pro tip is to open opposite windows so the air circulates better. If you crack open the driver's window, you'll need to crack open the back passenger window as well.
7. Make a DIY Bug Screen to Keep the Critters Out
When you crack the windows, bugs are bound to fly inside your car, especially if you have lights on. An easy DIY camping idea is to cut up a mesh screen to the size of each window, attach magnets to it and stick it to the exterior of your car.
Cars are made of metal, so a strong magnet should keep your bug screen up through heavy winds, too. Make one for every window just in case it gets unbearably hot. It'll allow you to open the doors whenever you need as well.
8. Tarp and Bungee Cords Makes a Good Porch for Rain Storms
While cracking your windows and making DY bug screens work for crystal clear nights, the last thing you want is to let rain hamper your car camping experience. By putting a large tarp over your vehicle, extending it to ground on the side you sleep on and securing it with bungee cords, you can create a makeshift porch that lets you enjoy the sights, smells and sounds of the rain without getting wet.
Shop My Car Porch Gear
   
9. Outfit Your Car With Battery-Powered Lights
Headlamps are useful, and I highly suggest you get a few. But you don't want to wear a headlamp at all times, and you don't want to drain your car battery by turning on your car's interior lights. A simple car camping hack is to place battery-powered lights on the interior roof of your car.
Make sure they're the tap on, tap off kind for ease of use. You can put them up with velcro (I use velcro for so many things) in spots you stay the most. If you frequently read in the front seat, place one there that looks directly on your book. Working on the computer while laying in the makeshift bed? Place one overtop of you to get ample light.
10. Insulate Your Cooler — Again
While I highly recommend investing in a cooler with multi-day ice retention, insulating it again by enclosing the cooler in an insulating material (like a window shade or a pool cover), and then taping or gluing everything together, can help your ice last a few days longer. This is one of the car camping ideas that can save you a ton of money over time.
Even though coolers with multi-day ice retention have rubber material that helps to seal it shut, heat will still penetrate through those small crevices and melt ice quicker, especially if you're like me and keep your cooler in your back seat — even when temperatures get into the 80s.
11. Embrace Solar Power Because It Will Become Your Best Friend
I never knew how much electricity I used until I made a conscious effort to document the number of laptop, phone and camera battery charges I'd need on the road. It's a lot. I frequently pull 10-plus hour days and need to charge my laptop three to four times each day. My phone needs charging at least once and many times twice per day. My camera batteries can go a week since I keep a few in rotation.
But if you had to start your car every time you needed to juice up your electronics, you'd waste so much gas — not to mention put your car through the wringer that would undoubtedly shorten its life.
I invested in the Jackery 240-watt portable power station, a 60-watt triple solar panel charging unit to keep it charged and a 24,000 mAh solar power bank with three built-in solar panels and two USB connections to keep my electronics charged at all times. The power station gives me three laptop charges and the solar power bank can charge my phone and camera batteries up to 10 times.
When there's no sun, I have to rely on a wall plug-in converter that goes in my car's cigarette lighter. I find these are sufficient because I typically do most of my work in a coffee shop during the day. So the solar energy comes in handy when I'm working through the night (and when I don't need another drop of coffee because my body is shaking from way too much caffeine).
Shop My Solar Go-To Gear!
    
12. Double Your Trunk Space With a Cargo Box
While I haven't invested in a cargo box for my roof just yet, I'm seriously considering this. It declutters your trunk by doubling your storage space for the things you don't typically use daily. For those people living in a car with two people, getting a cargo box is one of those car camping hacks that are worth spending the extra money.
13. Creating a Nice Outdoor Area Is Crucial
So I've been talking about a bunch of living in your car hacks, but what about the living space outside your car? You surely don't want to spend every waking second inside your car. That would get boring and may make you feel a little claustrophobic at times.
Setting up a nice outdoor area with a comfortable camp chair, hammock, table, fire pit and other amenities elevates your site and takes your car camping setup to the next level. Plus it opens you up to new people and experiences.
Let's face it, nobody's going to invite you over to their campsite for a beer and hot dog if you're couped up in your car all the time. Getting outside your car lets you experience nature and make new friends.
14. A DIY Camping Table Is Important
If you're living in your car full time or just car camping on weekends, you'll be doing a lot of cooking, working and lounging. My camp table is my kitchen counter, work desk and all-around hangout area, so I needed to make sure it met all these needs equally.
You can opt for a roll-up camp table, a folding table or you can make your own that utilizes your trunk for one side of its legs. There's no wrong way to make a DIY camp table, but the right table at the right height will save your back from having to bend over every time to cut fresh veggies.
15. Put Boiled Water by Your Feet to Stay Warm on Cold Nights
If you're a victim of always-having-cold-feet syndrome, call 1-800-Cold-Toes. Or just boil some water before you get into your sleeping bag, put it in a boil-safe container and put it down by your toes. It'll keep your feet warm for at least a few hours. If you want to take it a step further, stuff some clothes or a towel by your feet, too.
Shop My Instant-Boil Selection
   
16. Find the Closest Coffee Shops and Free Wifi
If you're like me, you spend five to eight hours a day in coffee shops and utilize them for your main source of wifi so you don't run out of hotspot data on the seventh day of the month. I always scope out the nearest coffee shops when I roll into a new town or campsite, and I frequently choose campsites during the weekdays that are within a few miles of a coffee shop.
Coffee shops give me my much-needed caffeine, allows me to get out of my camping shell and interact with other people and saves me a ton of money each month on hotspot data. You can find me at local coffee joints, as I always frequent those before I step foot in a Starbucks or Dunkin' Donuts. Plus, getting coffee at the local shops helps to boost their business!
17. Scope out the Nearest Showers (& Buy a Solar Camp Shower)
Just like the nearest coffee shops, scoping out the nearest showers is important as well. Just because you're car camping doesn't mean you can forgo your general hygiene (although I can go a couple of days without a shower if I'm not going on extensive hikes).
A few easy ways to shower on the road are truck stops, campgrounds with showers, using a solar camp shower and sneaking into the occasional hotel or gym when the hygiene gets out of hand.
I don't recommend sneaking into a hotel or gym to shower because I'm pretty sure it's illegal, but most hotels with a pool also have a shower near the pool. Walk in like you belong there and nobody will question you.
18. Download an Offline Version of Google Maps
One of the best car camping hacks and general life ideas is to download an offline version of Google Maps before you set off on your journey. I do this for every area when I'm car camping and also for every international trip I take.
Offline maps stay on your phone for 30 days and allow you to navigate to your destination when there's no cell service available. And if you're car camping, there's a great chance many places you're driving won't have service at all.
You can download the navigation for an entire state, country or simply outline an area you'll be traveling in most often.
19. Don't Forget to Download Music, Movies and Podcasts!
Speaking of downloading maps when you have adequate and free wifi at your disposal, don't forget to download music, movies and podcasts to bring some entertainment into your travels! I do this at coffee shops so I always stay up to date on my favorite podcast episodes, have a small stash of Netflix movies in case I want to watch a movie and never run out of music.
20. Carry Cash for Last-Minute Campsites
Some campsites are pay-to-play sites, and that's OK. There are times when stopping at an affordable campsite is much smarter than driving while you're tired to your destination. Many of those campsites operate on the honor system after dark, requiring you to drop cash in a box to pay for your stay. Keeping at least $30 in small bills with you will ensure you can pay, camp for the night and maybe enjoy a hot shower in the morning.
21. Bring a Tent to Switch Things Up
While car camping is amazing (I wouldn't be doing it full time if I didn't think it was), sleeping in your car every night can get old. Plus, if you find a nice campsite overlooking a river and need to go into town to work at a coffee shop for a few hours, there's no guarantee it'll be available when you come back.
If I'm staying at a campsite for at least three nights, I'll set up my tent and outdoor area so I can keep my spot and have a more comfortable home for a few days. I also opted for a 6-person instant cabin tent that sets up in 60 seconds and has 6-feet-2-inches of height inside, so I can stand up and move around. Plus, I invested in an extremely comfortable folding tent cot that keeps me off the ground and feels more like a real bed.
Shop My Personal Camping Gear!
22. Let Someone Know Where You Are
The last of the 22 car camping hacks is less of a hack and more of a safety thing. It's important that you let people know where you are. Whether it's your parents, friends or work colleagues, making sure someone knows where you are can help people track you down if something bad happens.
The chances of something bad happening are slim to none, but this is the same theory for letting someone know which hiking trails you're on or signing in at the trailhead. In case you twist an ankle and need help, someone will know the general area you're in.
Related Articles:
Get the Right Gear for Your Next Adventure Today!