I donate 5% of this blog's revenue to the Leave No Trace Center for Outdoor Ethics, so you're helping save the planet by clicking on any affiliate links or ads that may be on this page!
People descend on Moab, Utah and nearby Arches National Park from all over the world to see the stunning arches the area has to offer. They want the coveted picture of Delicate Arch or to hike Devil's Garden Trail and see seven named arches on a single hike.
But they often don't wander down Potash Road, sitting directly between Arches and Moab, to see a handful of other named arches that sit on plots of land that haven't been converted into National Parks.
That's a shame because the Corona Arch hike in Moab, Utah is home to one of the coolest and most unique arches in the entire area. The 3-mile, out-and-back hike is actually home to two arches: Corona Arch and Bowtie Arch. Each fascinating in their own right.
This article breaks down the reasons you should visit, where it's located, the amount of time you need to set aside to see each arch, and everything you need to know about hiking the Corona Arch Arch Trail!
But first, here's a picture of Bowtie Arch, so you know exactly what those payoff views look like.
Corona Arch Trailhead Location
The Corona Arch Trailhead location is about 15 scenic miles (20 minutes) outside of Moab and just 11 miles (15 minutes) from Arches National Park Visitor Center. It's located off of Potash Road, which features some incredible Petroglyphs and the best free BLM campsite in all of Moab, Utah.
Corona Arch Hike Time
Depending on your level of physical fitness and how much time you spend taking in the sights along the way, the total hike time of the Corona Arch trail is about 1.5 to 3 hours roundtrip.
Trail Distance

: 3 miles out and back

Approximate Hike Time

: 1.5 hours to 3 hours

Elevation Gain

: About 400 feet

Difficulty

: Moderate with a few difficult sections

Trail Uses

: Hiking only
Related Hiking Articles to Prepare:
5 Reasons to Hike Corona Arch & Bowtie Arch Trail in Moab, Utah
1. It's Completely Free
If you're visiting the Moab, Utah area, chances are good you're planning to do some serious hiking or sightseeing. Chances are also good you're going to dish out $30 to get into Arches National Park and then another $30 to get into Canyonlands National Park. Rightfully so. I guarantee you'll love both parks!
But you'll also be happy to score some free sights along the way. The hiking trail that features both Corona and Bowtie Arches is not only a great trail, but it's entirely free! Yup, it costs $0 to see!
2. There Are Far Fewer People Than at Nearby Arches National Park
Again, I'm going to compare the Corona Arch trail to Arches National Park — because it's so close and offers similar scenery along the way. Arches National Park is packed with people pretty much all hours of the day, every day of the year.
Corona Arch and Bowtie Arch, on the other hand, is a fairly desolate trail if you get there at the right time. During my 1.5-mile hike out to Corona Arch (around 11 a.m. on a holiday Monday), I saw a handful of people walking past me who had already finished the hike.
When I got out to Corona Arch to see it firsthand, there were only about nine people taking it in and snapping photos. Even though there were a few people lounging underneath the arch (I also lounged there for about 15 minutes taking it all in), once they cleared out, the coast was clear and I managed to snap a few photos with nobody in the frame.
I have to admit that I did get there at a perfect time. After I had spent about 45 minutes walking around, sitting under and snapping photos of Corona Arch, I headed back and did pass about 20 people on their way to see the arch. It's also worth noting it was a group of high-school-aged students, so it could've just been a conundrum.
The lack of people who hike (or maybe even know about the Corona Arch trail) means you'll get spectacular photos without having to fight the crowds to capture them!
3. The View Is Iconic and Extremely Impressive
Corona Arch is an absolute specimen to see first-hand. As a partly freestanding arch that is attached to a cliff on one side and on its own on the other, Corona Arch stands 105 feet tall and spans 140 feet wide. That makes it one of the largest and most fascinating arches in the entire area.
Corona Arch and Bowtie Arch sit on the side of the Colorado River in what's known as Bootlegger Canyon, which features reddish-orange, sandstone cliffs with caves jetting out of the ground in every which way, uneven slickrock on the ground, and cacti and other desert-dwelling plants.
You'll see some pretty amazing non-arch sights in Arches National Park, but Bootlegger Canyon is spectacular in its own right.
4. You Get a Two-For-One Payoff View
When you hike to Corona Arch, you don't just get to see Corona Arch up close and personal. You also get to see Bowtie Arch right next to it. From afar, you can actually see both named arches in a single view, which is pretty rare for the area.
Make sure you whip out your phone and put it on panorama mode for the ultimate shot of two named arches in a single photo. Also, before you get to the ladder (more on that later) you can get a pretty cool shot of both arches in a single photo!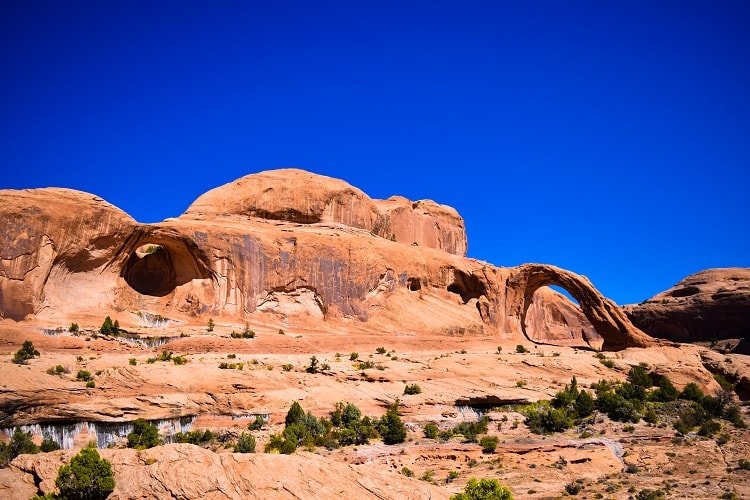 5. It's Relatively Easy and Extremely Rewarding
For the payoff views you get at the end, I was expecting the Corona Arch trail to be somewhat difficult. There were parts of the path that will definitely test the will and ability of some hikers, but, all in all, the trail is pretty easy!
(More on the exacts of the trail below) The best part navigating a fairly easy trail with rewarding views is that you're not dead tired by the end and can actually take adequate time to walk around the arch and take in its magnificent presence with your mind still intact!
Breaking Down the Corona Arch Hike (And Bowtie Arch)
There are pretty much four different sections on the Corona Arch trail, each differing quite a bit in strenuousness. This is what you can expect while navigating each of these sections.
I. Getting up the Initial Rocky Talus Slope
When you first take a gander at the Corona Arch Trail from the trailhead, you may think you're in for a pretty tough hike. That's because the very first section you hit is a fairly steep rocky talus slope, which features about 30 to 40 steps crafted from rock fragments.
Due to a large amount of spacing between each step, this section looks tougher than it actually is. Once you get going, you'll realize the steepness isn't really too bad and, if you hike it in the morning, most of the slope is shaded.
This section may consist of dozens of steps crafted from rock fragments, but it's only about 0.1 miles of toughness before you get to the railroad tracks, which begins the easy stretch.
II. Easy/Relatively Flat Part
Once you get up the slope, you'll reach the railroad tracks and some pretty smooth sailing for the next 0.5 miles or so. Be careful crossing the railroad tracks because they're still active. The tracks split two steep sandstone cliffs in half, so it's pretty cool to stop near the tracks and just take a look up and down the tracks.
After the tracks, you'll hike on a smooth patch of trail for about 0.2 miles until you reach an uphill slope crafted from a bunch of uneven rocks. This section is pretty short and then you'll get back to the flat and easy stuff for quite a distance.
Don't forget to stop and take in the scenery here! You'll see some caves near the top of rocky cliffs to the left and your mind may begin to wonder. I found myself imagining a band of cowboys repelling down to the cave and hiding out from Johnny Law in the 1800s. My imagination does run pretty wild sometimes.
III. Ladder and Slickrock Safety Cable Sections
Once you've made it past the easy section, you'll stumble upon a short stretch of relatively steep slickrock with a cable handrail to hold onto. Whether you're a beast or not, holding the handrail is a good idea. (I had extensive ankle surgery seven months prior to this hike, so the slickrock sections gave me a little bit of trouble because the ankle wasn't 100 percent back to normal.)
After you pass this initial section of slickrock, you'll turn a corner and get your first glimpse of both Corona Arch and Bowtie Arch in the distance! As soon as I saw Corona Arch, I was in awe of how large and delicate it actually is in person.
Next up you'll reach a small ladder that gets you up a steep, 6-foot rockface. If you're sketched out climbing ladders, don't worry, this thing is extremely sturdy. (I even saw an older gentleman climbing down the ladder with a dog in hand.)
The next part a slickrock section that goes up at about a 135-degree angle. Don't worry, there are steps carved into the slickrock that are wide enough for each foot and a cable handrail to hold onto. It's the most difficult section of the trail, but navigating it means you'll get the ultimate payoff view of Corona Arch — so keep going, my Rambling friends!
IV. Uneven Slickrock in the Home Stretch
During the home stretch, which is about 0.3 miles (you can see Corona Arch and Bowtie Arch the entire time, so that makes it easier and more rewarding), you'll be hiking on uneven slickrock the entire time.
The trail isn't marked too well here because everything is really part of the trail, but hiking toward the bottom of the slickrock (closer to the Colorado River) provides the easiest route. Hiking near the cliffs is a bit steeper, but you do get a pretty cool view of everything.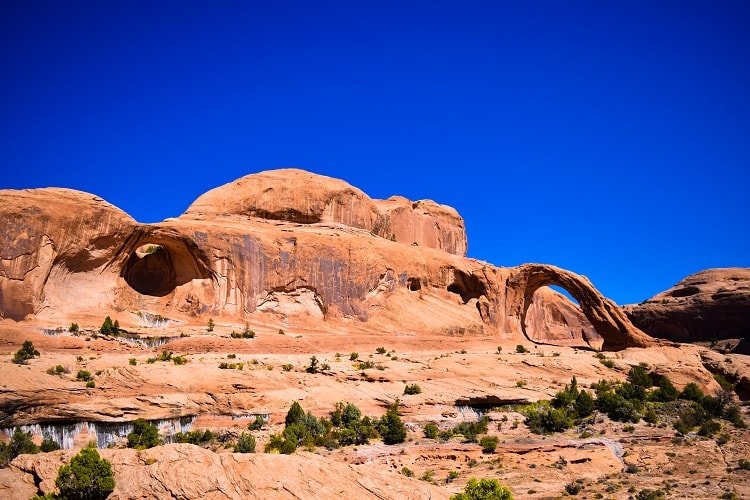 You've made it! Now it's time to take it all in, relax in the sliver of shade under Corona Arch, snap your photos from each side of the arch and enjoy the scenery!
Related Articles:
Get the Right Gear for Your Next Adventure Today!