I donate 5% of this blog's revenue to the Leave No Trace Center for Outdoor Ethics, so you're helping save the planet by clicking on any affiliate links or ads that may be on this page!
The Devils Garden Trail in Arches National Park is one of the best hikes in Moab, Utah due to its seven incredible named arches, spectacular views of arches and rocky fins, easy access to the first three arches and somewhat strenuous hiking needed to see the arches at the end of the trail.
The Devils Garden loop hike features the lengthy Landscape Arch, which experts believe will be the next to naturally crumble and some of the best sights (not just arches) Arches National Park has to offer. Navigating your way through sandy terrain, on top of rock fins and down narrow passageways with steep drop-offs, the Devils Garden Arches National Park trail also offers some of the best hiking in the entire park.
Overview of Devils Garden Trail at Arches National Park
One-Way to Pine Tree Arch & Tunnel Arch

: 0.5 miles (easy)

One-Way to Landscape Arch

: 0.8 miles (easy)

One-Way to Navajo & Partition Arch

: 1.3 miles (moderate)

One-Way to Double-O Arch

: 2.1 miles (difficult)

One-Way to Dark Angel

: 3.0 miles (difficult)

One-Way to Private Arch

: 3.6 miles (difficult)

Total Out-and-Back Hiking Distance

: 10 miles (difficult)

Total Loop Hiking Distance with Primitive Trail

: 7.2 miles (difficult)
The trail allows you to get up close and personal with seven named arches, see many other arches from a distance and gawk in awe at plains, the La Sal Mountain Range and many other sandstone-rock structures that litter this path, which goes from easy to difficult pretty quickly.
This is your ultimate guide for navigating your way around the loop and making sure you catch a glimpse of each of the Devils Garden Arches along the way!
1. Getting to the Trailhead
Getting to the Devils Garden hike is pretty easy — and extremely scenic! It requires a 45-minute drive on the winding roads of Arches National Park, which includes spectacular scenery seemingly around every turn.
There's a pretty big parking area directly outside the trailhead, but it fills up quickly. I arrived at the trailhead at 9 a.m. and I got a decent space, but it was entirely packed when I finished my hike around 3 p.m. At 3 p.m., people were walking back to their cars a solid mile away from the trailhead.
You'll want to get there early to get a parking spot (and beat the crowds. Trust me, you don't want to add another two miles to this hike if you don't have to.
2. Pine Tree Arch & Tunnel Arch
The trail to Pine Tree Arch and Tunnel Arch is well-groomed and relatively flat (aside from one not-so-steep incline taking you to the viewpoints). A guy was running the trail around 9 a.m. and a bunch of older and not-so-fit folks were hiking as well.
A few hundred yards into the hike, you'll have the option to continue straight or veer to the right for Pine Tree and Tunnel Arches. Veer right and take in these beauties!
Tunnel Arch
The first arch you'll stumble upon is Tunnel Arch, which was carved out of a huge rock face on the ground. You can kind of see another arch popping through to the left, but it remains unnamed until it becomes a little more substantial.
Pine Tree Arch
Pine Tree Arch is better than Tunnel Arch because you get to see it up close and personal and you can walk through it, which is a conundrum because, in the real world, you can walk through tunnels but not through pine trees. I wonder if anyone thought that through before they named them.
3. Landscape Arch
After taking in Tunnel and Pine Tree Arches, find your way back to the main trail and keep trekking on an easy, well-groomed path, past the standalone sandstone rock structures and up to Landscape Arch. It'll take you about a mile to get to the closest viewpoint (which is a whole lot better than the further viewpoint).
Landscape Arch is the longest Arch inside Arches National Park, spanning 306 feet (96 meters), but it's only about 11-feet thick at its weakest point. The fact that Landscape Arch is still standing is pretty incredible.
In 1991, a 60-foot-long slab fell from Landscape Arch and crashed to the ground, weakening its structure a great deal. Since then, visitors can no longer walk underneath the arch. You can still see the remnants of rocks beneath the arch, so you can only imagine how long it has left before the 11-foot-thick centerpiece crashes down, too.
4. Navigating the Sandstone Fins
This is where the real hiking begins (and where a ton of people drop-off). There is no easy path to get to the remaining Arches. Instead, you must walk up steep, uneven rock fins that feature about 20-foot drop-offs on each side.
This part of the trek isn't for the faint of heart, but it's doable, and it isn't even the toughest or most frightening part of the Devils Garden Loop Trail. Keep pushing yourself and you'll be through this stretch in about 10 minutes.
When you get to the top, take a gander back toward the lower main trail and just take in the spectacular scenery!
5. Navajo Arch & Partition Arch
The next stop is a two-for-one! A half-mile apart stands Navajo Arch and Partition Arch, which are very unique structures in their own right. Once you get to the top of the sandstone fins, you can either continue straight or veer left for these two arches. You're going to want to veer left!
Pro Tip: I recommend checking out Navajo Arch and Partition Arch on the way there, but snapping photos of them are much better in the afternoon, so I suggest getting your photos on the way back!
Navajo Arch
Navajo Arch is extremely unique to the park because it's almost like walking into a cave (with no ceiling). When you walk up to Navajo Arch it looks pretty bland — until you step inside and see sunshine peeking through a vast crack in the top and life thriving as it reaches for the few hours of sun it gets each day.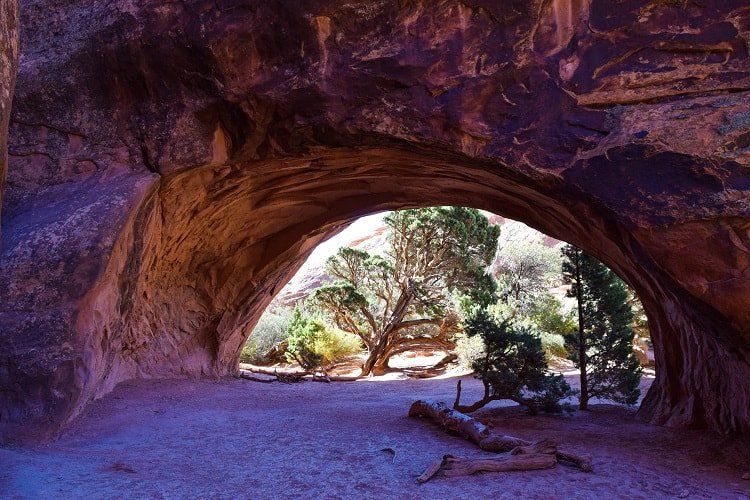 Partition Arch
Partition Arch is one of my favorite arches in and around Arches National Park. It isn't frail, fragile and in danger of crumbling down to rubble, but it does have the best scenery through an arch in the entire park.
The colors are spectacular and the landscape seen through the arch is diverse. You can see the La Sal Mountain Range in the background, along with plains, rocky sandstone structures and the most vibrant reds, purples and greens anywhere in the park.
Catching a glimpse of Partition Arch is a must. It's so good that I hiked to it twice and spent about 20 minutes sitting down and taking in the view the second time around. Remember to snap your photos in the afternoon. That way you can use the sun's natural light in your favor.
6. Rock Fin Pass
You'll get to Rock Fin Pass a little less than 2 miles into the hike, and it's not for the faint of heart. Rock Fin Pass just it sounds like. A long rock fin that features a 3-foot-wide worn down section in the middle you must hike across.
The entire fin is about 7 feet wide, but the hiking section is about 3 feet wide. This makes it kind of scary to navigate when hikers are going each way and meet in the middle. One person must stop to allow the other to safely pass.
One of the sides drops off about 30 feet while the other side drops off about 100 feet. So, as you may be able to guess, you don't want to fall off either side. If you do, you'll either wind up with two broken legs or a headstone bearing your name. We don't want either of those to occur.
The good thing is that I saw people turning around once they saw Rock Fin Pass, so the trail leading to Double-O Arch, Dark Angel and Private Arch have even fewer people than the rest of the trail.
It's also worth noting that the section directly after Rock Fin Pass, which leads to Double-O Arch is the most difficult part of the hike. You're hiking on uneven, steep surfaces for about a quarter-mile.
7. Double-O Arch
There are two viewing points for Double-O Arch, which you'll arrive at about 2.1 miles into your hike. The first viewing point is on the ground when you first walk up. You'll be standing in the sand and get an up-close-and-personal view of Double-O Arch.
Don't get me wrong, the first view is good. But the second view (which is kind of a secret) is much better! If you start toward Dark Angel, you'll see three paths: one leading directly to Dark Angel, one leading right with a sign to the Primitive Loop and another, unmarked trail leading left. The trail to the left leads to a higher viewpoint of Double-O Arch.
The trail leading left isn't marked and doesn't look like much of a trail. It's also pretty steep and at times you may need to use your hands to scramble up steep, rocky paths. But once you get to the top (about 0.1 miles), the payoff is totally worth it!
To get to the secret view, I also saw people climbing through the arch. I didn't do this because I wanted to respect the arch and people's photo-ops.
8. Dark Angel
It's kind of funny because I was staring directly at Dark Angel when I asked another hiker where in the world it was. He turned to me and said, "It's right there. You don't see it?" I was dumbfounded, replied, "No," and went on my merry way up the rest of the path.
Turns out Dark Angel isn't an arch and that guy probably thought I was either extremely dehydrated and hallucinating or that I was just really dumb. The next person I asked was far more kind and informed me that Dark Angel is a single sandstone-rock structure that protrudes from the earth all by itself. It's that lone rocky structure on the left in the picture below.
9. Private Arch
If you hike to all of the previous structures, Private Arch will be about mile 4.5 of your journey. It's out there hiding in its corner all alone, but it does have some spectacular scenery accompanying it.
Private Arch is cool and all, as it's tucked away in its own corner down a steep hill you can walk down, but the views surrounding it are much better than the actual view of Private Arch itself.
You can hike up this thin rocky structure (about 20 feet wide at its largest point) and take a look at all these beautiful rocky outcrops standing one by one in a delicate row. Look left and you'll see the plains and La Sal Mountain Range.
10. Primitive Trail at Devils Garden Loop
If you trekked out to Private Arch, you're already on the Primitive Trail at Devils Garden. It's a more difficult trail that leads through the ground floor of Arches National Park and back to Landscape Arch. The full trail is packed with spectacular scenery!
I opted for the out-and-back version of Devils Garden Trail because my heart was set on seeing Navajo Arch and Partition Arch with the perfect sunlight. Although I did hike a decent stretch of the Primitive Trail and saw some extremely amazing sights, I turned back before the going got rough.
Parts of the Primitive Trail are said to be the most difficult stretch of Devils Garden, so make sure you're prepared.
Pro Tips to Maximize Your Experience at Devils Garden Trail
Carry a comfortable backpack

Bring food and plenty of water (about 2 liters per person, minimum)

Get to the trailhead early in the morning (before 10 a.m.)

Download a phone map before you go (cell service is non-existent)
Related Hiking Articles (Post continues below):
How Long Does It Take to Hike Devils Garden Trail?
You can either do a 7.2-mile hike to see everything, or you can backtrack in places, hike to a better viewpoint and take everything in a little better by doing about 10 miles. The Devils Garden trail time is somewhere in the neighborhood of three to six hours, depending on your physical fitness and how long you stop at each site for viewing.
I wound up hiking 11.5 miles, but I saw everything there was to see on the trail, including a bunch of viewpoints that aren't even mapped. It took me six hours total, but I stopped for lunch and spent a decent amount of time at each arch to take everything in.
At certain points in the hike, the trail gets pretty difficult. In a single day, you may want to avoid other trails and strictly limit yourself to the Devils Garden Trail and some lookout points in Arches National Park.
Arches National Park Related Articles:
Other Related Articles:
Get the Right Gear for Your Next Adventure Today!