I donate 5% of this blog's revenue to the Leave No Trace Center for Outdoor Ethics, so you're helping save the planet by clicking on any affiliate links or ads that may be on this page!
Visiting Mesa Verde National Park to see its astonishing and excellently preserved cliff dwellings should undoubtedly be on your bucket list. And if you're like me, you probably want to see these spectacular 1,000-year-old feats while spending the least amount of money possible on accommodations. Don't worry, there are plenty of free campsites nearby.
Rather than opting for an expensive hotel in nearby Cortez, Colorado or dishing out $38 to $54 per night to stay at the 267-site Morefield Campground inside Mesa Verde National Park (yup, it's $38 per night for tents and dry camping), I'd highly recommend saving a pretty penny and opting for one of the nine free Mesa Verde National Park camping sites in this article.
Although the Morefield Campground is only open from early May to early October, all of these other sites for free camping near Mesa Verde are open year-round.
It's also important to note that Mesa Verde National Park is gigantic at more than 52,000 acres of land. Although the Visitor Center and National Park Entrance are located just seconds off the highway, it'll take you 45 minutes from the entrance to the Cliff Palace. Plus, there's no towing allowed inside the park, so you'll have to drop off your rig anyway if you're not camping inside the park's campground.
With that being said, I sorted the best campsites by driving distance instead of actual reviews, cell service and amenities. If you're visiting Mesa Verde National Park for even just two days, you'll probably get sick of being on the road for three hours a day.
1. County Road 34
The best free campsite near Mesa Verde National Park by far is County Road 34. It's located just four minutes outside the park's entrance, which is one of the shortest distances from a free campsite to a national park that you'll find in the entire country.
It's also worth noting this is the only campsite I've actually stayed near the park. After all, why test out the other sites when you've already got a spot at the best one.
There are about 10-15 individual sites at the County Road 34 campsite, but there's plenty of space to add a few more if it's packed and you ask your potential neighbors nicely. I was set up on an individual campsite doing some cowboy camping in my hammock and there was room for at least two RVs right next to me.
This free campsite provides an excellent location to Mesa Verde National Park with incredible sunsets and starry skies. I decided to cowboy camp in my hammock instead of pitching a tent just so I could sleep under the million shining stars in the sky.
Although the road is rutted quite deeply, I was able to drive my Kia Forte halfway through the campground, only scraping the bottom twice. I wouldn't recommend low-clearance vehicles going too far into the campground if it has just rained.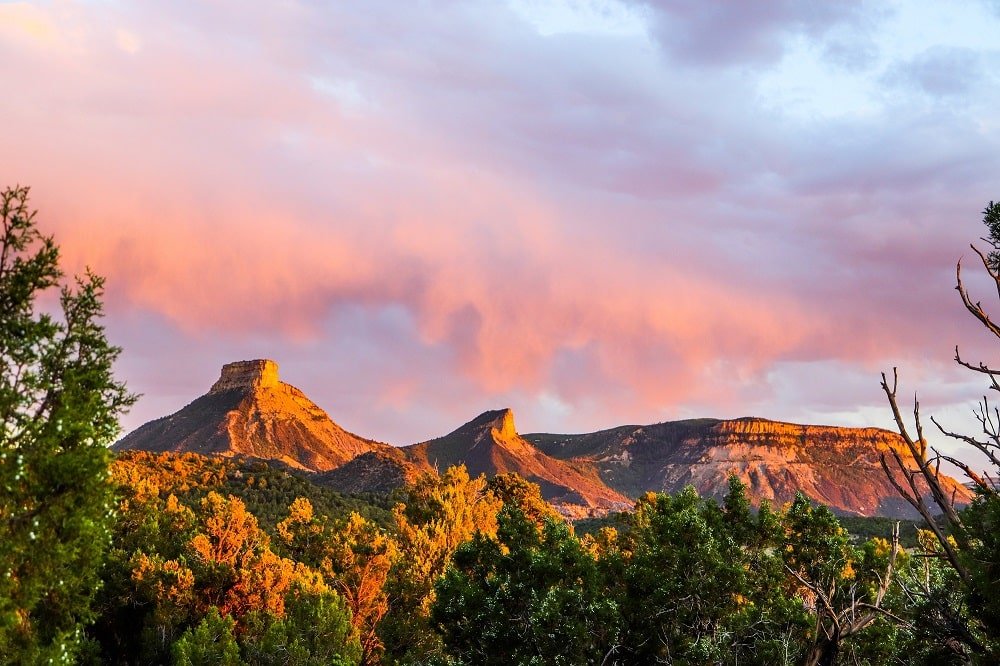 2. Madden Peak Road Dispersed Camping
Madden Peak Road Dispersed Camping is located inside the San Juan National Forest outside of Hesperus, Colorado and is the second-closest campground to the park. It has a five-star rating on Campendium with excellent cell service for Verizon and AT&T.
The pictures showcase a nice wooded area with designated campsites that can equip larger rigs and can handle about 20 campers per night — or more.
3. Cherry Creek Road
The Cherry Creek Road free camping area is the next best campsite if you can't snag a spot at the first two. Reviews state it has up to 3 bars of cell service for Verizon, AT&T and T-Mobile and can accommodate big rigs. But you may want to get there early to get a good spot because it's in close proximity to Durango.
4. Crystal Creek Ditch
While Crystal Creek Ditch doesn't have any photos or reviews on Campendium, it is located on the same road as the next few sites, so you'll have to comment below if you go there!
5. West Mancos Road
The West Mancos Road camping area is another site inside the San Juan National Forest. From the photos, it looks to be a regular dirt road that leads to an open grassy field that's equipped with fire rings. It also looks like those people with big rigs will have plenty of space.
6. Echo Basin Road Dispersed Camping
Located inside the San Juan National Forest and just about 1 hour and a quarter away from Cliff Palace inside Mesa Verde National Park, Echo Basin Road Dispersed Camping is very similar to West Mancos Road. It's a long dirt road with lots of open land to camp, so enjoy!
7. Chicken Creek Dispersed
If you're looking for a super secluded free campsite that isn't too long of a haul to Mesa Verde National Park, the Chicken Creek Dispersed camping area is your go-to. It's inside the San Juan National Forest, so it's got plenty of tree cover and plenty of space.
8. Bay City Gulch
Bay City Gulch is a slightly secluded spot outside Durango in the San Juan National Forest. There are only five sites located in small clusters, so you may be a bit too close to your neighbors if you're looking for seclusion.
9. Miners Cabin Campground
Probably one of the most scenic and busy campsites due to its location on a river right outside Durango, the Miners Cabin Campground offers a pleasant waterside campsite. But you'll want to get there early because the place gets pretty packed.
Related Camping Articles:
Get the Right Gear for Your Next Adventure Today!