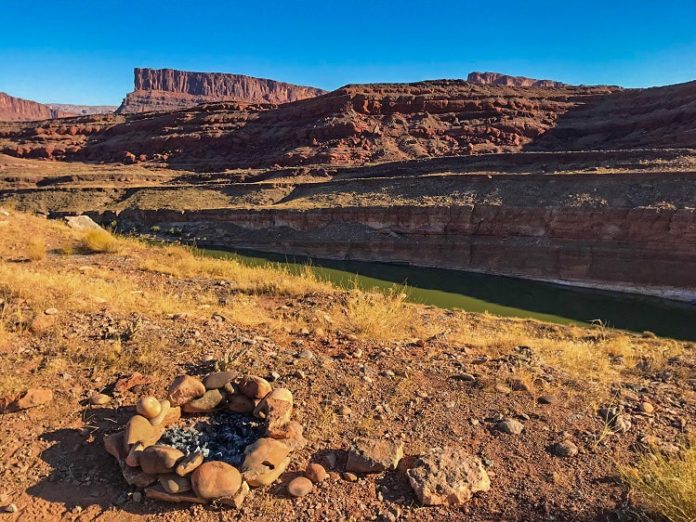 I donate 5% of this blog's revenue to the Leave No Trace Center for Outdoor Ethics, so you're helping save the planet by clicking on any affiliate links or ads that may be on this page!
Whether you've paid a decent chunk of change for your RV or van conversion, activities in the Moab area or you're just somewhat of a cheapskate like me car camping through the United States, saving money on accommodations you don't need could be the difference between taking one trip or a few trips on the same total budget.
Luckily, free Moab camping at BLM (Bureau of Land Management) campsites seems to be around every bend in the road! So here are the nine best sites for free camping near Arches National Park, Canyonlands National Park and within Moab, Utah!
Whenever there's a chance to save money, especially on accommodations, I jump at the opportunity. So when I was planning a seven-night solo road trip through Moab and Southwestern Utah, I knew I had to pinch pennies to make it a cheap trip. This is the ultimate list of best camping near Arches National Park!
1. Potash Road
Of the four free Moab camping sites I stayed at during my time in the area, the Potash Road dispersed area was by far my favorite. Although it doesn't offer any cell signal or bathrooms, it does offer peace and quiet, pristine views of the Colorado River and mountains jutting up each side, and one of the most starry skies in the area. For these reasons, my Arches National Park camping experience was absolutely amazing.
Potash Road dispersed is some of the best free Moab camping out there. It's located directly on the Colorado River, which usually costs $20 per night at other campgrounds, and it's relatively unknown by travelers visiting the area.
Its prime location is about 30 minutes outside downtown Moab, 20 minutes to the Arches National Park Visitor Center and 10 minutes from the Corona Arch Trailhead.
2. Willow Springs Trail
While Willow Springs Trail was my least favorite of the four free BLM camping in Moab sites. It's by far the closest and one of the biggest, but the sheer volume of free land available to camp on at Willow Springs is almost entirely covered by people.
Willow Springs was soooo crowded that I had to pull my car up to the very edge of a bigger dispersed area and nearly block in a small campervan. Don't worry, I wouldn't block anyone in! But I felt like I almost did.
The free Moab camping site is just 15 minutes outside of downtown and just 10 minutes from being able to call it an official Arches National Park camping site. So, as you can see, it's a prime location for a free campsite.
The three upsides I took away from Willow Springs are that there are porta-potties, pretty good cell signal and friendly people who will invite you over to their campsites and around their blazing fires!
3. Lower Gemini Bridges
From the pictures, Lower Gemini Bridges is one of the most breathtaking places for free camping near Arches National Park.  It's set off a dirt road at the base of amazing mountains and surrounded by several hiking trails.
Since it's located on roads that may be difficult to navigate quickly, it'll take you about 30 minutes to reach downtown Moab and 20 minutes to Arches Visitor Center.
4. Lone Mesa Campground
Another free Moab camping site, Lone Mesa offers a place to stay for everybody — no matter what type of vehicle you're driving. I stayed here for two nights and it features an easy-to-navigate dirt road that makes camping accessible even for smaller cars, but it comes with a price.
Since any vehicle can traverse the landscape to the campsite (and it has really good cell service for a free BLM site), it gets pretty packed. It's also closer to Canyonlands National Park's Island in the Sky area, so it's a nice stopover if you wish to arrive early in the morning.
When I arrived here Thursday afternoon in late September, many of the most prominent spots were already taken. But I drove deeper into the campground, which is also where the better views are and where bigger rigs may have a difficult time getting in and out, and I found a spot overlooking the beautiful red mesas that surround Lone Mesa.
5. Bartlett Wash
Located about 30 minutes from downtown Moab, Bartlett Wash is a fairly secluded campsite with awesome views, little-to-no cell service and (by a few accounts) relatively easy to get to with almost any vehicle. There are a few shallow creek bed crossings you need to be cautious of especially during the rainy season.
6. Klondike Bluff Road
If you're looking for spectacular views of the mountains and surrounding landscape and free camping in Moab, Utah, you may want to check out Klondike Bluff Road. It's near a cell tower, so the service is almost unbeatable.
It's a relatively large campsite located about 20 minutes outside of Moab and 15 minutes from Arches National Park Visitor Center. It may fill up quickly, but it's spaced out enough to where you can have your own spot.
7. Dalton Well Road
Through my personal experience, I believe camping at Dalton Well Road has been shut down. I drove up and there was a gate with a sign that said no camping and that violators would be prosecuted. There were also absolutely no vehicles on sight, so I didn't want to push my luck.
If you visit and experience something different, please leave a comment and let me know how your experience was!
8. BLM 143
Prime location, great cell service as reported by other campers, access to the Copper Ridge Dinosaur Trackways, BLM 143 is a spectacular spot for camping near Arches National Park. It's about 30 minutes outside of Moab and has a smaller crowd than many nearby campsites.
9. Yellow Circle Road
When I stumbled upon Yellow Circle Road, I was at the end of my four-day trip to Moab, Utah (having explored Arches National Park, Canyonlands National Park and the amazing Corona Arch Trail, among others) and headed to Ouray and Ice Lake Basin Trail the next morning.
So, naturally, I wanted to stay in one of three campsites south of Moab (Strike Ravine Dispersed and Behind the Rocks are nearby, but the reviews state they aren't in great condition).
And I'm so glad I did. The campsite was desolate, so I had my pick of the litter. The cell signal was phenomenal. And the view of Utah's La Sal Mountains in the background was an absolute treat to gaze upon as the sun was rising in the morning.
Roads were pretty bad (for my 2WD Kia Forte), so getting into the campsite took some precision and time. If it were the rainy season, I don't think a 2WD car could make it.
Hopefully, you find your way to an amazing free campsite in Moab and enjoy your time in the desert! Please remember that BLM campsites are limited to 14 days within 30 days.
Related Articles:
Get the Right Gear for Your Next Adventure Today!