I donate 5% of this blog's revenue to the Leave No Trace Center for Outdoor Ethics, so you're helping save the planet by clicking on any affiliate links or ads that may be on this page!
Glimpses of tall condominiums on the horizon, the only remnants of an outside society that are present, quickly fade away from existence the deeper you get into the 140,000-acre Merritt Island National Wildlife Refuge on Florida's Space Coast.
The sights of civilization are replaced by pure nature, allowing you to wallow in your own thoughts, undistracted by modern technology and cell service as the breeze crackles nearby palm fronds and ruffles the water to create miniature waves that the sun seems to bounce right off of.
Birds chirp at a distance and fly through the air, some landing to display signs of mating season in the forms of high- and low-pitched calls while standing with wings flung wide open. Alligators lounge on the banks opposite the mangroves, soaking up sun to warm their cold-blooded bodies and get back to their predatorial ways.
Crowds of people dissipate at the Merritt Island Wildlife Refuge, a resounding difference from the likes of nearby Orlando and Cocoa Beach, each sitting just an hour from this splendid piece of paradise in Titusville, Florida.
Road signs are replaced by signs of wildlife activity in the area, some warn of feral hogs, bobcats and alligators while others give you a heads-up you might see armadillo, barred owls, Florida scrub-jays, pileated woodpeckers and much more.
The Merritt Island National Wildlife Refuge is on the largest barrier island on Florida's Atlantic Coast, tightly tucked between NASA's Kennedy Space Center and the Canaveral National Seashore. Visiting the Merritt Island NWR (as it's sometimes referred to) is like a chance to step into the past and catch a glimpse of untouched Florida — or at least what it may look like without rampant development.
When the American Space Program of National Aeronautics and Space Administration (NASA) moved into the area in 1963, it was required to provide a buffer zone between rocket-fueled machines launching into space and the homes of the general public.
The order gave way to a truly spectacular place, the Merritt Island National Wildlife Refuge, which is now home to nearly 550 animal species (21 of which are listed as endangered) and 1,000 plant species that have made a home in its brackish estuaries and marshes, scrub oaks, palm hammocks, pine forests and coastal dunes.
If you're lucky, you can catch a glimpse of bald eagles or the ever-elusive and rare Florida bobcat. If you're not, you can still easily see American alligators basking in the sun, Florida scrub-jays flying from branch to branch, feral hogs scouting the ground for food and sea turtles bobbing their heads up and down in the waters.
If you want to get the most out of your trip to the Merritt Island National Wildlife Refuge — a nature preserve, sanctuary and state park type of environment rolled into one — the following information can help you to achieve it!
Black Point Wildlife Drive
Black Point Wildlife Drive is a roughly 6.5-mile driving and biking path that's home to some of the most diverse species and best wildlife spotting in the Merritt Island National Wildlife Refuge in Titusville, Florida.
The well-maintained, packed-down dirt road begins by taking you through shallow and dried-up marshes freshly charred by a controlled burn. It takes you around small bends and next to large bodies of water filled with jumping fish, feasting birds and the occasional sun-soaking gator.
The trail is a simple one-way road that's wide enough in spots to pull over and let people pass. There are a few stop-offs on the drive, including the Cruickshank Trail entrance, a 5-mile loop hike that takes you through the marsh and beside the Indian River on foot.
If you're looking for gators, they primarily start at marker 10. I'm not sure why they chose this location, but each of the three times I took the Black Point Wildlife Drive, I've always seen many of them sunbathing on the banks opposite the dirt road.
If you want to take the Black Point Wildlife Drive, which I highly suggest you do, it can be done in about one to three hours (you'll want to take your time!) from sunrise to sunset every day of the year. It costs $10 per vehicle, which can be paid on the honor system in cash at the entrance or by using a credit card in the nearby Merritt Island National Wildlife Visitor Center.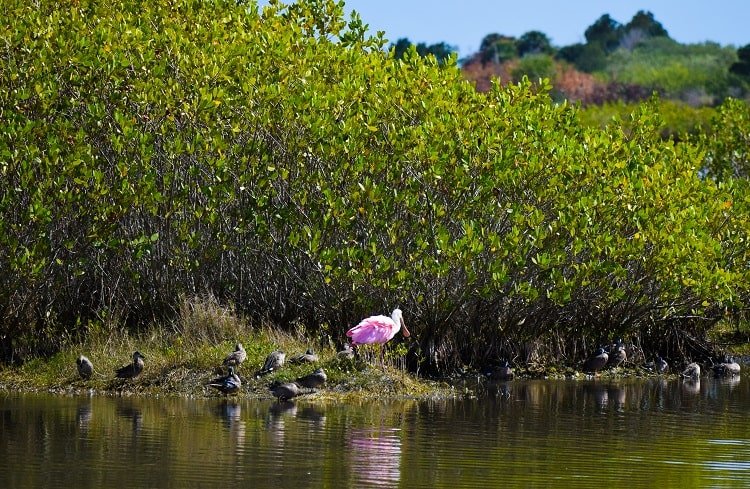 Merritt Island National Wildlife Refuge Hiking
It is the state of Florida, so hiking is more like walking in nature, which is still a great experience in its own right. But given the diversity of the 140,000-acre Merritt Island National Wildlife Refuge, each trail presents an entirely different landscape with unique plants and animals.
How many other places can you hike a single preserve or park and get to see that many different landscapes? While there are no mountains to climb, waterfalls to chase or rivers to gorge, the Merritt Island NWR offers hikes through the coasts of untouched Florida, a rarity in the highly developed Florida coastlines.
Cruickshank Trail
Beginning near the end of Black Point Wildlife Drive, the Cruickshank Trail offers an easy hike on a mostly flat and well-maintained dirt trail running alongside the Indian River and brackish marshes on the outskirts of the Merritt Island National Wildlife Refuge.
Hiking the opposite way on the 5-mile loop trail to get a different perspective, the sights of the Indian River were almost immediate. The smell of salt from its waters grew stronger the deeper I continued — until it finally opened up to showcase the immensity of the large saltwater river beside.
With birds bantering at one another, flying through the air above and landing on nearby tree branches that crackle in the wind, feathers of birds who fell victim to prey lay dispersed on the trail. As do the tracks of off-road vehicles used to service the five-mile, mostly flat path.
As sweat trickled down my forehead where hair meets skin, a cool breeze blowing like natural air conditioning, a lone black snake slithered across the path, more startled by me than I was of it.
Aside from the three passing hikers along the trail and marsh-dwelling man-made watercraft, navigated by paddles since engine-powered crafts are prohibited in the Refuge, I was entirely alone with all the species the park took out to protect all those years ago. A smile began to take over as I realized how special this undeveloped nature reserve actually was.
Royal Palm Hammock Trail
Royal Palm Hammock Trail transports you back to old Florida, before the Palm hammocks sprouted and pine forests were slowly demolished and paved over by the roads we drive on today.
The path winds through the palm and oak hammocks on slightly muddy marsh trails, wooden two-by-fours smashed together with metal nails to create an elevated walkway that keeps you safe from the deeper, insect-ridden marshes below.
Signs on the trail claim it's home to feral hogs, armadillo, northern flickers, white-eyed vireos, barred owls, pileated woodpecker and many more species. Although the vast majority escaped my winter walk through the woods, I caught three armadillos scavenging through the fallen leaves at separate intervals of the trail.
While I didn't see any woodpeckers plucking away at trees, a peaceful silence was replaced by their echoing hammers of beaks against bark — a welcome sound to a visitor of their natural habitat.
The hammering led to a glance toward the sky, where plump, delicious-looking wild oranges hung from shiny green leaves of the common permission, a cash crop brought to much of Florida by the Indians in the 1500s.
Scrub-Jay Ridge Trail
Scrub Ridge Trail is different than both the aforementioned trails because it's set on a 1-mile look of natural and preserved scrub oaks, tropical plants teeming from the dry ground as palms and pines tower overhead.
The Scrub Ridge Trail is home to the bright blue and white Florida scrub-jay, just one of 15 endemic species in the U.S. and the only one in Florida. Along the trail, you may be lucky to see feral hogs, Florida bobcats, white-tailed deer and many other species.
Marsh Bay and Dummit Creek Loop Trail
Canaveral National Seashore Trail
Merritt Island National Wildlife Refuge Visitor Center Boardwalk
It's the Best Bird Watching at Merritt Island
If you're looking for a diverse set of bird species, look no further than the Merritt Island National Wildlife Refuge. It's home to 330 conformed bird species, including the bald eagle, Florida scrub-jay, the only endemic species in Florida, bright pink roseate spoonbill and so many more.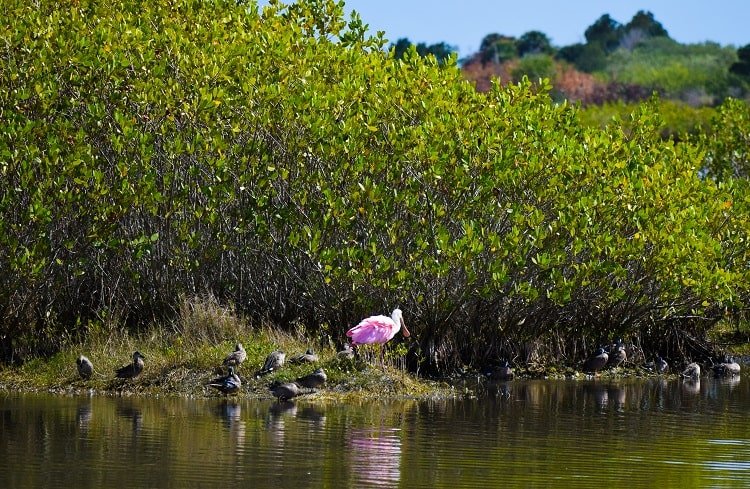 Merritt Island Wildlife Refuge Hours
The Merritt Island National Wildlife Refuge Visitor Center is open daily from 8 a.m. to 4 p.m., except for Thanksgiving, Christmas and New Year Day. Otherwise, the trails, Black Point Wildlife Drive and boat ramps are typically open from dawn to dusk 365 days of the year.
Where Is Merritt Island National Wildlife Refuge?
The Merritt Island National Wildlife Refuge is located on a sprawling 140,000-acre plot of land that doubles as Florida's largest barrier island on the Atlantic Coast and a buffer area to separate the home of the general public from the NASA Kennedy Space Center.
It's about 5 miles from I-95 across a beautiful towering, causeway and it's tucked back in the heart of the barrier island that's shared with the Kennedy Space Center.
Get the Right Gear for Your Next Adventure Today!