I donate 5% of this blog's revenue to the Leave No Trace Center for Outdoor Ethics, so you're helping save the planet by clicking on any affiliate links or ads that may be on this page!
For more than 700 years from 600 to 1300 CE, Mesa Verde National Park was home to thousands of Ancestral Pueblo people who built more than 5,000 living sites that include more than 600 cliff dwellings — by far the most popular structures inside the park.
In 1906, the National Park Service protected the land and archeologists went to work excavating and preserving the remaining structures. Today, Mesa Verde National Park is the largest archaeological preserve in the United States and it's home to the best-preserved Ancestral Puebloan archaeological sites in the world.
Mesa Verde National Park is also the only national park in America that's dedicated to the preservation of villages and structures built by ancient civilizations. Those structures include the spectacular cliff dwellings that will have your mind racing with ideas of how they built them on high mesas to farming terraces, towers, in-ground structures and so much more.
Needless to say, this 52,485-acre national park definitely deserves at least a weekend of your time at some point in your life. The park offers great hiking, tours through the coveted and well-preserved cliff dwellings, free camping right outside the park and so much more. Let's take a look at everything you need to know for your visit.
Mesa Verde Cliff Dwellings
The main reason many people visit Mesa Verde National Park, which is located in the southwest corner of Colorado, is to catch a glimpse of the incredible cliff dwellings that hang high on the mesas with panorama views of the valleys and canyons below.
The most popular cliff dwelling is Cliff Palace, which is believed to be the largest cliff dwelling ever constructed. Then there's Long House and Spruce Tree House, which are the second-largest and third-largest cliff dwellings inside the park. All in all, there are about 600 preserved cliff dwellings inside Mesa Verde National Park.
Though archeologists have determined that nomadic Paleo-Indians began to inhabit the area that's now Mesa Verde National Park around 7500 BC, the first full-time settlers called this land home around 650 AD.
But it wasn't until the end of the 12th century, some 600 years after first settling these hallowed grounds, that the first cliff dwellings were constructed. It's still unclear exactly how the Mesa Verdeans built these enormous structures high into the mesa tops and why they chose this area to do so, but the building materials consisted of sandstone blocks, wooden beams and mortar to hold everything together.
Many of the park's cliff dwellings are humble abodes with just one to five rooms. Those paled in comparison to the infamous Cliff Dwelling, which had more than 150 rooms and more than 20 kivas, large circular ceremonial rooms.
Although you can't tour all 600 — that would take you years anyway — you can tour the largest and most popular cliff dwellings if you're willing to purchase a ticket and take a short hike.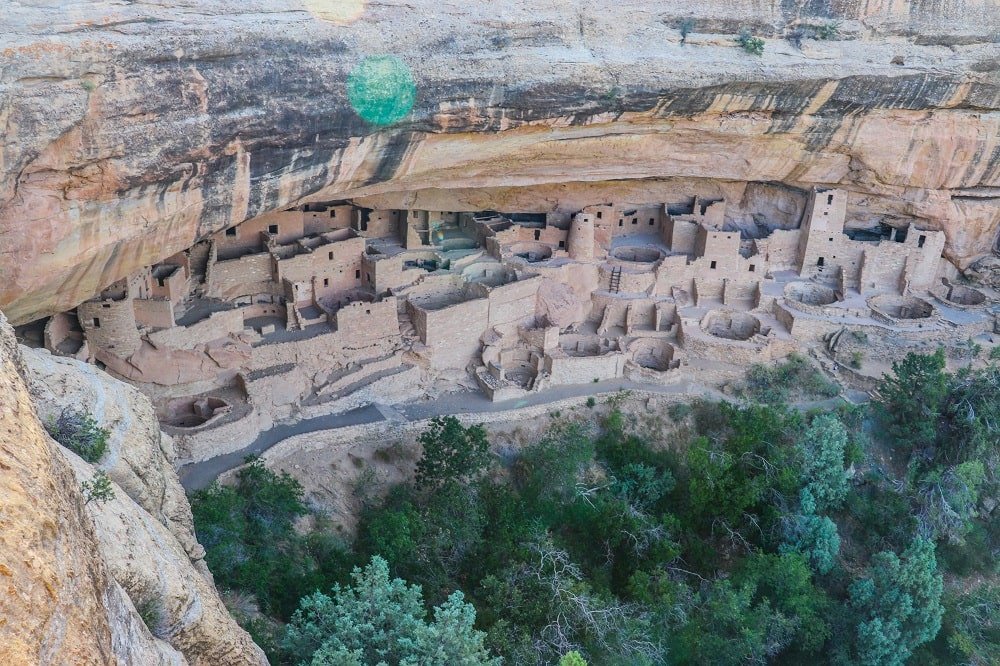 Mesa Verde Tours
If you snag a ticket in advance from Recreation.gov, you can take a ranger-guided tour to Cliff Palace, Long House, Balcony House, Mug House, Square Tower House, Oak Tree House and Spring House from May to October. Tickets can be reserved online, but they sell out quickly.
Since Cliff Palace is such a coveted tour, the park reserves a designated number of tickets available on a first-come, first-served basis each day. Tickets are available for purchase at the visitor center, but you'd better get there well before they open to snag a ticket.
The ranger-guided tours to Cliff Palace, Long House and Balcony House occur multiple times per day and cost just $7 per person. The park also offers ranger-guided tours daily to Mug House, Square Tower House and Oak Tree House, as well as early bird and twilight tours of Cliff Palace and a sunrise tour to Balcony House for $25 per person. There's also a day hike option to Spring House for $45.
While all of these aforementioned tour tickets can be purchased in advance on Recreation.gov, all tours are currently canceled until further notice due to the pandemic and tickets cannot be purchased until the tours get a definitive resume date.
Mesa Verde National Park Camping
The best — and cheapest — way to visit and explore Mesa Verde National Park is by staying at one of these nine free Mesa Verde National Park camping sites located outside the park. I highly recommend snagging a spot at the County Road 34 campground because it's just 4 minutes outside the park, which is the closest free campsite to the park by far.
Mesa Verde National Park encompasses 52,485 acres, so it takes about 45 minutes to get from the park's entrance to Cliff Palace. So if you want to stay inside the park, and don't mind dishing out $38 (for dry camping and tents) to $54 (for full hookups) per night to stay at the 267-site Morefield Campground inside the park, that's going to be your cheapest option with the shortest drive.
If you don't want to camp, you can also stay in nearby Cortez, which has plenty of over-priced hotels that are more than willing to host you. It's also worth noting that Morefield Campground is only open from May to October, but the nine free campsites are open year-round.
Best Time to Visit Mesa Verde National Park
The best time to visit Mesa Verde National Park is from May to early October. That's when all the cliff dwelling tours are running and when the campground inside the park is open. Mesa Verde National Park is in the desert, though, so visitors during peak summertime will be met with daytime temperatures in the high 90s and nighttime temperatures in the 60s or 70s.
However, Mesa Verde National Park is open 24 hours a day, 365 days a year, so there really isn't a bad time to visit. Going during the winter will present a different perspective of the park, as cliff dwellings may be covered in snow. But the park is home to black bears, so you may able to see one throughout the year.
Best Airport for Mesa Verde National Park
The Durango La Plata County Airport is by far the closest airport to Mesa Verde National Park, but flights in and out will cost a pretty penny. Other options are to fly into Albuquerque International Sunport, located four hours away, or Colorado Springs Airport, located about six hours away.
Mesa Verde National Park Hours
The park entrance and the main park roads at Mesa Verde National Park are open 24 hours a day and 365 days a year. But tours only operate from May to October and the visitor center may be closed outside of that timeframe as well.
Mesa Verde Elevation
Mesa Verde National Park's elevation is quite diverse, beginning around 6,000 feet at the park's entrance and getting up to just over 8,500 feet at Park Point, a scenic overlook that requires just a short 0.2-mile walk on a paved path.
Get the Right Gear for Your Next Adventure Today!