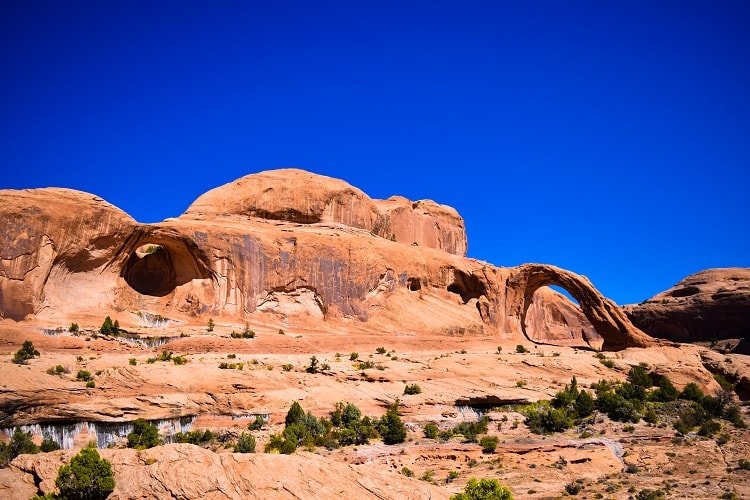 I donate 5% of this blog's revenue to the Leave No Trace Center for Outdoor Ethics, so you're helping save the planet by clicking on any affiliate links or ads that may be on this page!
Moab, Utah is one of the best places in the United States for outdoor adventurers to visit due to its proximity to two National Parks, free BLM camping, amazing weather in the spring and fall, scenic drives, spectacular hikes and so much more.
This Moab visitors guide will break down everything you need to know — from the best time to visit, what to expect in every season, which hotels and campsites are available, how many days to spend in Moab and much more — so you can spend more time enjoying your trip and less time researching it!
Best Time to Visit Moab
The best time to visit Moab, Utah is during the spring or fall. Moab is in the middle of the desert, so temperatures regularly exceed 100 degrees from late May to early August. If you don't mind a little snow on the ground and colder temperatures, winters in Moab provide excellent weather for hiking and many other outdoor activities with a fraction of the tourists.
However, summers in Moab are undoubtedly the busiest time of the year and that's when you'll see the most tourists visiting the nearby Arches National Park and Canyonlands National Park. To combat the large crowds in the summer, you may want to pencil in a few weekdays and take advantage of the early morning sunrise and get to the parks first thing in the morning. That will help you beat the heat and larger crowds.
Does It Snow in Moab?
Yes, it snows about 9 inches per year in Moab. Since it's located in the desert, temperatures regularly fall into the single digits and teens during December, January and February. While precipitation is scarce, visiting during the winter provides a unique perspective to see the amazing national parks powdered in snow.
How Many Days in Moab?
Three days in Moab is the minimum amount of time you'll want to be in the area to get the most out of your trip, so plan to visit for a long holiday weekend or try to take Friday or Monday off work so you can stay through the entire weekend.
Moab is three and a half hours from the Salt Lake City Airport and about six hours from the Denver International Airport (the closest major airports). That's pretty far to commute for a weekend trip, especially if you have to fly a few hours to get to one of those airports.
If you arrive into Moab Friday night and have to leave Sunday night, you'll likely be in Moab for less than 48 hours due to the time you'll need to spend on the road. That's simply not enough time. I arrived in Moab on a Friday at sundown (after a direct flight from Fort Lauderdale to Denver and a six-hour drive from Denver to Moab) and left on a Tuesday morning and still didn't get to do everything I wanted to do.
So if you're visiting, plan to stay for at least three days in Moab and try to be there longer if you want to take advantage of everything the area offers, including the spectacular sights and hikes of Arches National Park, Canyonlands National Park, petroglyphs and Corona Arch Trail.
Closest Airports Near Moab
Canyonlands Field Airport (CNY) is the closest airport to Moab, Utah, but given its status as a regional airport, flights into and out of Canyonlands Field Airport are going to be extremely expensive and limited to destinations and days. The closest major airport is Salt Lake City International, which is almost four hours away by car.
Canyonlands Field Airport (Moab, Utah)

: 18 miles from downtown Moab (20 minutes)

Salt Lake International Airport (Salt Lake City, Utah)

: 237 miles from Moab (3.75 hours)

Denver International Airport (Denver, Colorado)

: 378 miles from Moab (5.75 hours)

Albuquerque International Airport (Albuquerque, New Mexico)

: 367 miles from Moab (6 hours)
Where to Stay in Moab
While there are many hotels and Airbnb homeshares to stay at in the Moab area, I highly suggest BLM camping for free! However, if you forgo camping, there are still plenty of hotels, homeshares and even a hostel you can get into if you book far enough in advance.
Moab Camping
Tent camping may get unbearable during the summer months, as temperatures quickly rise to the 90s and 100s early in the day, but they fall to the low 70s at night since Moab is in a desert.
RVers and van lifers will be much more comfortable camping during the summer months due to the air-conditioned vehicles, but car camping is always an option — just make sure you're prepared with these essentials. I've broken down a list of the nine amazing free campsites in Moab, many near the national parks, and there are a ton more sites for as low as $20 per night if you don't mind paying.
Moab Hotels
There are more than 50 hotels and motels, a few bed and breakfasts and more than 250 vacation homes to choose from in Moab just on the world's best booking site alone, running you anywhere from $50 to $400 per night — so there's something for everyone. There's even one hostel, the Lazy Lizard, which will cost you about $10 per night for those budget travelers who don't want to camp.
National Parks Near Moab
Both Arches National Park and Canyonlands National Park key focal points of Moab travel, each within a short drive of downtown Moab. This relative distance makes Moab one of the most outdoor-friendly and adventurous spots in the entire U.S.
Arches National Park
While the entrance to Arches National Park is about 10 minutes from downtown Moab, it takes 45 minutes to drive from the visitor center to Devil's Garden, which is at the very end of the park's pavement and features seven amazing named arches and an incredible hike.
At Arches National Park, there are tons of amazing hiking trails, plenty of arches to hike to and see close up and, even though arches are at the park's namesake, there are some pretty incredible non-arch feats of the park that are certainly worth seeing.
Arches National Park Articles:
Canyonlands National Park
The entrance to Canyonlands National Park is about 35 minutes from downtown Moab, but since Moab is separated into two sections (the Island in the Sky near Moab and the Needles District two hours south) driving through the Island in the Sky section is a lot quicker than driving through Arches NP.
Canyonlands offers a different point of view than Arches and the rest of Moab since it sits at the top of a diverse network of intricate canyons down below. The weather is cooler and there are far fewer people at Canyonlands National Park.
Canyonlands features a unique perspective of the La Sal Mountains in the backdrop of 1,000-plus-foot deep canyons, an incredible arch, a salt dome in the ground that has baffled geologists for years, hiking trails and excellent offroading.
Hiking in Moab
From the incredible Devil's Garden Loop, an 11-mile trail that winds around seven named arches in Arches National Park, and the Corona Arch Trail that features one of the best arches in the area outside of the national parks to the spectacular trails in Canyonlands National Park, hiking is one of the most popular activities in Moab.
Check out some awesome hiking-related articles:
Moab Elevation
Even though Moab is in the desert, it's the high desert atop the Colorado Plateau, situated at 4,026 feet above sea level. This means the summers aren't as hot as deserts at low altitude in places like California or Arizona, but summer days exceed 100 degrees and winter nights dip into the single digits.
Although the elevation in Moab is lower than Denver by just about 1,000 feet, you can breathe much easier when hiking in Moab than in nearby Colorado, making it a perfect getaway and training ground for hiking!
During your visit to Moab, Utah, I highly suggest you visit Arches National Park and Canyonlands National Park's Island in the Sky district, camp outside under the stars and take full advantage of everything the area has to offer! Moab is one of those places in the world you will certainly still dream about visiting again in the years to come.
Get the Right Gear for Your Next Adventure Today!