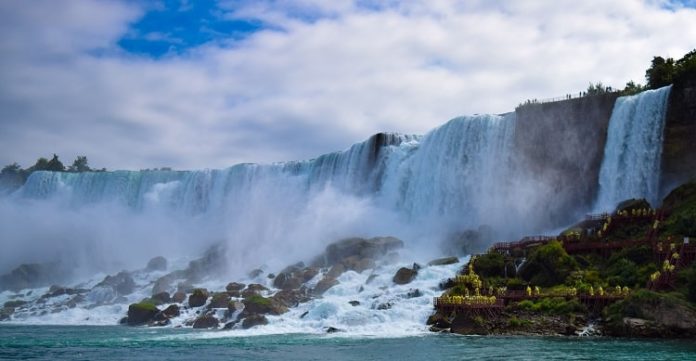 I donate 5% of this blog's revenue to the Leave No Trace Center for Outdoor Ethics, so you're helping save the planet by clicking on any affiliate links or ads that may be on this page!
So you're planning a trip to Niagara Falls, getting the logistics of your itinerary and wondering how to make it the best weekend ever. You've come to the right place, my Rambling friend!
Seeing how Niagara Falls is within the top 10 largest waterfalls in the world and claims the top spot as the most-visited waterfall in the world, you won't want to skip a beat.
The perfect Niagara Falls itinerary starts with a plan on how to visit the Falls, what to do in the area and the best airport to fly into to make your trip spectacular. I recommend flying in early Friday morning so you can beat the rush of visitors that flock to these majestic Falls every weekend.
But if you can't don't worry. This is the only 3-day itinerary you'll need — whether you fly in on Friday morning or Friday night!
How to Visit Niagara Falls on a 3-Day Weekend Itinerary
Day 1 (Friday)
If you arrive in Niagara Falls on Friday night, wait until Saturday or Sunday morning to jump on the Hornblower Niagara and catch different angles of the Falls. You'll still want to see the Falls at night!
1. Arrive at the Airport and Head to Niagara Falls
To start day 1, it really depends on what time you arrive for your Niagara Falls visit and what time of year it is. If you don't get started with your Niagara Falls weekend until Friday night, don't worry you'll still be able to see everything on this Niagara Falls itinerary. You'll just have to switch a few things around (which I'll note when we come to them) and you may be a little more tired on your flight home Sunday night.
If you arrive at night, head to the Falls to see them all lit up under artificial lights, shining blue, red, green and every color under the rainbow. It's a pretty cool sight to see and it gives you a different perspective of the majestic Falls.
Whether you arrived at night or during the day, you'll want to catch the Falls on a Friday, Saturday or Sunday night for a special fireworks display!
If you arrive during the day, you'll be happy to know that seeing the Falls doesn't take that much time and you can knock out a ton of different angles in just a few hours. But take your time and take it in, because these Falls are incredible.
2. Jump on Hornblower Niagara
If you're lucky enough to begin your Niagara Falls weekend early on a Friday, I suggest you drop your bags wherever you're staying and head directly toward the Hornblower Niagara! Getting this in on Friday means you won't have to wake up at the crack of dawn Saturday or Sunday to beat the crowds of people swarming here.
The Hornblower is the boat that takes off from the Canadian banks of the Niagara River and sails you directly toward the three Falls that make up Niagara (American, Bridal Veil and Horseshoe). After smoothly sailing by American and Bridal Veil Falls, Hornblower gets you up close and personal with Horseshoe Falls, the largest of the three that spans 2,700 feet wide and 167 feet high.
The boat takes you near the spinning whirlpool vortex at the base of Horseshoe, exposing you to the pouring waters of the Niagara River flowing over its rocky spine. You will get wet, so wear that poncho with pride!
Seeing Niagara Falls from the Hornblower boat is the best way because you get to experience it as well. You get to bask in its waters and stand at the bottom of the Falls gazing upward toward the most-visited waterfall in the world.
3. Catch Different Angles of Niagara Falls
From the paid, self-guided tour of Journey Behind the Falls to the free viewing points of Rambler's Rest Pavilion, Niagara Falls View, Niagara Falls Viewpoint and Table Rock Viewing Area, you should take in Niagara Falls from as many different angles as possible.
Realistically, there's no bad spot to view Niagara Falls from, so I highly recommend you start walking and get to as many as possible! But, if you're flying home from the U.S., save going to the American side of the Falls for Sunday. It'll be on your way and you won't have to pay the international crossing fee twice.
4. Explore Downtown Niagara and Surrounding Area
There are truly three parts of Niagara: the touristy area where there are lots of flashing lights, restaurants, game rooms and even a Ferris wheel and go-kart track; the casino district just south of the touristy area, which has, you guessed it, a lot of casinos; and the locals-centric downtown Niagara, where you can find bars, eateries and coffee shops filled with locals and a few tourists.
While you'll need a car or ride-sharing service to get to downtown Niagara, the other two areas can be (and are better when) explored on foot. If you're into casinos, head to that area for one night and take it all in.
I'm not much of a casino dweller, so I walked through during the day to check it out and spent most of the nights walking the streets of the touristy area, grabbing food, drinks and checking out what the shops have to offer.
Day 2 (Saturday)
If you arrived at Niagara Falls late Friday night, hold off on the rental car and head straight for the Hornblower Niagara boat first thing in the morning to beat the crowds. The Hornblower is an absolute must when planning a trip to Niagara Falls.
Once you pick up the rental car, you can either go straight to Niagara-on-the-Lake or hit a hiking trail. If you hike first, it'll make the wine taste a little better and give you a reason to splurge on the impeccable food!
1. Pick Up Rental Car
This one's pretty self-explanatory, but picking up a rental car is key. It allows you to get out of Niagara Falls and explore more of what the region has to offer. I booked my rental car a day in advance and still paid just $7 USD per day.
You can try your luck with booking a rental the day before if you'd like. There are plenty of rental car companies in Niagara Falls, so you may be able to get a cheaper rate since they'll just want to make some money.
2. Take a Hike
Niagara Falls, Ontario may not be known for its hiking trails, but there are a ton of trails with some pretty spectacular views all across the region. My recommendation is to go to nearby Niagara Glen Nature Center and Park and hike the Niagara Whirlpool Loop.
That's a pretty easy hiking trail (3.4 miles and about 1.5 hours) that starts on the top of the cliff overlooking the Niagara River before taking you down to its aqua blue banks for about 2.5 miles. Hiking first thing in the morning will make the wine taste better! (More on that later.)
3. Explore Niagara-On-The-Lake
After picking up the rental car and taking your morning hike, drive 30 minutes north to Niagara-on-the-Lake, where a bustling town with streets lined with old 19th-century buildings and tall green trees sits on the banks of Lake Ontario.
Niagara-on-the-Lake is the heart of Ontario's wine country, boasting nearly 40 wineries within its city limits. After enjoying a nice lunch (with a glass of wine on the side), you're ready to experience wine country!
4. Go to a Winery
There are plenty of wineries to choose from (and even a wine bike tour that see you riding a rented bicycle down the streets of backcountry Ontario stopping at a handful of wineries), I highly suggest going to Konzelmann Estate Winery.
It's the only winery in Niagara-on-the-Lake that sits directly on the banks of Lake Ontario and is open to the public. The wine is tremendous and the views are spectacular! Ontario is known for its famous ice wine, which is a sweet dessert wine made from grapes that withstand the harsh Ontario winter.
If you want to see different wineries in the area (there are more than 100 in the region) check out Wine Country Ontario for a full list of wineries and breakdown of each region's claim to fame.
Day 3 (Sunday)
1. Hike the American Side of Falls
After dropping off the rental car and before heading back home, there's still one thing you must do before leaving Niagara Falls: check out the lesser-visited American side. It's home to Niagara State Park and Goat Island, which each offer unique views of the Falls and excellent hiking trails.
It also has the Maid of the Mist (the equivalent to the Hornblower Niagara) and an excursion that allows you to walk right up to Bridal Veil and American Falls (similar to Journey Behind the Falls).
2. Head to the Airport
Unfortunately, this is the time you bid adieu to Niagara Falls, the spectacular sights it offers and the diversity in its wine regions and scenic hikes. If you're like me, you'll probably find yourself back in the Niagara Falls region again sometime in your life.
What Is the Best Airport to Fly Into for Niagara Falls?
For Americans planning a trip to Niagara Falls (or if you're flying from the United States), the closest airport to fly into is the Niagara Falls Airport. However, it's a two-terminal airport so most flights will be routed to nearby Buffalo. It's only a $4 1.5-hour ride by public bus or a 45-minute drive by car.
If you're a Canadian flying in to see the Falls, the closest airport is in Toronto, which will then require a 1.5-hour drive or bus ride into Niagara Falls.
Get the Right Gear for Your Next Adventure Today!