I donate 5% of this blog's revenue to the Leave No Trace Center for Outdoor Ethics, so you're helping save the planet by clicking on any affiliate links or ads that may be on this page!
Visiting Niagara Falls is an incredible experience I urge everyone to do. It's the most-visited waterfall in the world and, by the sheer size and flow of its three waterfalls that make up the collective Niagara Falls, it's also within the top-10 largest waterfalls in the world.
Planning a trip to Niagara Falls should be a necessity because it's right at our doorstep. I did a boatload of research before the trip and still got there wondering how I'd take it all in for the cheapest possible price.
So this Niagara Falls travel guide includes tips, things I wish I knew before visiting Niagara Falls, a deciding statement of which side is better, how to spend at the Falls and more things to do outside of Niagara.
Do You Need a Passport to Go to Niagara Falls?
Yes, you do need a passport to go to the Canadian side of Niagara Falls since it entails you crossing over from the United States to Canada. However, since so many Canadians and Americans cross the border each day, the border patrol agents won't stamp your passport upon entry. I know, it sucks.
How Long to Spend at Niagara Falls
To be completely honest, Niagara Falls is a tourist town filled with chain restaurants, bright flashing lights and casinos — aside from the spectacular waterfalls. If you're into that sort of thing, you can successfully spend an entire weekend in Niagara Falls and not see everything.
On the opposite side of the spectrum, it only takes a few hours to see the Falls from a ton of different vantage points, including taking a 30-minute boat journey on the Hornblower or Maid of the Mist. If you're going to simply take in the Falls, you can do so in a single day.
If you're a hiker or love the outdoors, Niagara Falls will surprise the hell out of you! There are plenty of scenic hiking trails in the area that offer spectacular views! (We'll get to those a little late in the tips section.)
You can spend an entire week hiking the trails and still not see everything you wished to. You can head out of town for a day trip to nearby Toronto, Niagara-on-the-Lake or Hamilton, which each offer something a little different.
To just see the Falls

: 1 Day

To take in bustling Niagara Falls, Ontario

: 1 Weekend

To see the Falls, enjoy the town and hike the trails

: 1 week
Best Way to See Niagara Falls
The best way to see Niagara Falls is by boat, which can only be done by booking a ticket with the Hornblower Niagara Cruise or Maid of the Mist. Each boat is essentially the same thing, except the Hornblower leaves from the Canadian side and the Maid of the Mist leaves from the U.S. side.
Taking the boat the base of the Falls gives you a true perspective of how big they are — and how small we are as humans in the grand scheme of things. It gets you up close and personal with the whirlpool that whips at the base of Horseshoe Falls and gives a literal taste of the waters crashing over its edge.
Hornblower Niagara Falls Boat Tour Experience
Before boarding the boat, you get your own rain poncho, which you will definitely need, and a pair of waterproof shoe covers if you know who to ask. I failed to get the shoe covers and my shoes were absolutely drenched after the Niagara Falls boat tour, so I highly recommend getting them.
The boat nonchalantly begins at the edge of the Niagara River, slowly drifting by the impressive American Falls and Bridal Veil Falls, which are located on the U.S. side. American Falls is the second-largest waterfall in the collective Niagara Falls, spewing water and mist 110 feet down to the river over every square inch of its 950-foot width.
After steering clear of American Falls' misty layers, the fun really begins.
As the boat nears Horseshoe Falls, which is an utterly impressive 167 feet high and 2,700 feet wide (nearly three times wider than American Falls), the sound of water constantly crashing gets increasingly louder as if someone is turning up the volume.
As the boat nears the middle of this most-visited waterfall on earth, a light mist begins to cover the red poncho. As you near the middle of the whirlpool that, if the boat accidentally navigated into, would pull it underwater immediately, the light mist turns into an all-out downpour.
The water begins flowing onto the boat in droves, escaping through the side portholes but getting stuck in your shoes. Your phone gets covered in water the instant you take it out of the protective poncho to snap a photo of the goliath waterfall standing 17 stories tall directly in front of you.
So you put the phone back in your pocket and, undistracted by modern technology, look up at the 681,750 gallons of water flowing over its rocky spine every second and marvel at the mystery that is Niagara Falls.
11 Niagara Falls Tips You Won't Want to Miss
There are plenty of things I wish I knew before visiting Niagara Falls, which turned out to be just about everything on this list of tips. Luckily, I shifted plans, rented a car and was able to cross off nearly everything I wanted to do in Niagara Falls.
1. See the Falls From a Boat (& a Few More Vantage Points)
If you weren't sold by my description that the best way to see Niagara Falls is by taking the Hornblower boat, here's another quick sentence that'll, hopefully, sell you. It's a once-in-a-lifetime opportunity to see one of the world's largest waterfalls from a few hundred feet beneath its peak.
You can, and should, take in the Falls from the Journey Behind The Falls viewing area, which is a self-guided tour that takes you to the edge of the waterfall from below. Another great area to see all three falls from is the Rambler's Rest Pavilion, Niagara Falls View, Niagara Falls Viewpoint and the Table Rock Viewing Area.
2. Go to the Canadian and American Sides
While the Canadian side is the better side with more vibrancy to the town and more spectacular views, the American side offers great views and an entirely different experience.
Aside from the Falls on the Canadian side, you'll find chain restaurants, casinos and a ton of family-friendly things to do that cost a lot of money. It's essentially a tourist trap.
On the American side, you'll find Niagara State Park and Goat Island, which offer scenic hiking, far fewer tourists and different vantage points of the Falls. You can even take an excursion to walk right up to Bridal Veil Falls (similar to Journey Behind the Falls on the Canadian side).
Whether you're into hiking or not, seeing the Falls from the American side provides another great perspective to these majestic Falls.
3. (But) Stay on the Canadian Side
While visiting each side of the border is a must, I highly suggest you stay on the Canadian side. There aren't many hotels on the American side and it gets pretty desolate at night. On the other side of the border, Niagara Falls, Ontario is bustling with people every night after the sun goes down.
There are tons of restaurants, things to do at night and hotels and Airbnbs to choose from on the Canadian side. It's an all-around better side to be on since they've built up the tourism quite nicely there.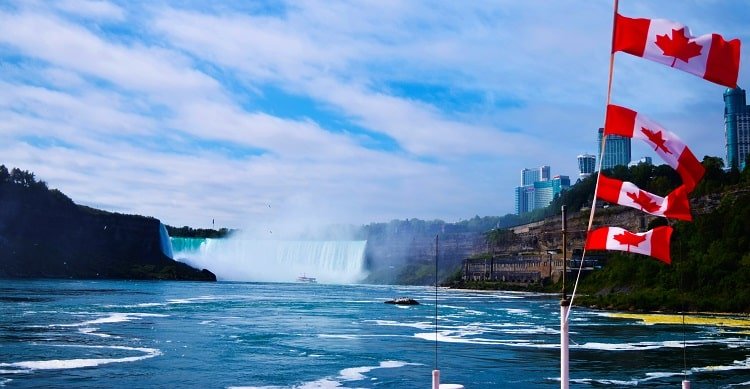 4. Rent a Car
One of the things I wish I knew before visiting Niagara Falls is that it doesn't take too long to see the Falls and there isn't much else to do that's within walking distance of everything. This makes it really tough — or really expensive — to get out and see other things.
If you rely on public transportation to get around, you'll be waiting a long time and be relegated to walking quite a bit.
If you take Ubers everywhere, you'll spend waaaaaay too much money doing all the things you want to do. But if you rent a car in Niagara Falls (which can be done for as little as $7 USD per day), you'll save yourself a ton of money on transportation costs and be able to do more things you enjoy.
5. Check out a Local Winery
After you've got your rental car, head out to one of the nearly 100 local vineyards in the Niagara region. Yes, you read that correctly. There are about 100 vineyards within a 45-minute drive of Niagara Falls. Although not every vineyard is open to the public, there are plenty that are.
During my visit, I jetted out to Konzelmann Estate Winery in Niagara-on-the-Lake, which boasts the feat of being the only publicly open winery on Lake Ontario in the entire region.
The wine tour was pretty cool, but, if you've been on a wine tour before, it may be a little underwhelming. The view across Lake Ontario into Toronto is where Konzelmann sets itself apart.
6. Explore Hamilton or Niagara-on-the-Lake on a Day Trip
Besides seeing Niagara Falls from the Hornblower, one of the best things I did was explore greater Ontario for a few days. I wound up visiting Niagara-on-the-Lake and Hamilton during my extended weekend visit, and neither was a disappointment.
It's tough to pick a favorite since they're so different from one another. Niagara-on-the-Lake offers wineries galore, a historic downtown area with shops and restaurants tucked inside 19th-century buildings.
As you can guess, this quaint town is directly on Lake Ontario. Plus, it's only 30 minutes from Niagara Falls, which makes for an extremely easy day trip!
Hamilton, on the other hand, offers more of a big-city vibe with its downtown streets lined with taller buildings, one-off restaurants and hipster coffee shops. It's situated on Lake Ontario and its hilly stature makes it great for hiking and chasing waterfalls!
I also took a short trip to St. Catherines, which was pretty underwhelming. It's a college town that doesn't have much to do in terms of the outdoors, wineries or bustling downtown area.
7. Take a Hike (or a Few)
If you're outdoorsy and love hiking, Niagara is the perfect place to get some hiking in! I highly recommend going to the nearby Niagara Glen Nature Center and Park, located on a cliff overlooking the banks of the Niagara River.
Once there, there are a ton of trails to take on. My favorite was the Niagara Whirlpool Loop. It's a 3.4-mile loop trail that takes you up and down the cliff's edge and onto the banks of the aqua blue waters of the Niagara River.
8. Have an International Plan in Place (Credit Cards and Phone)
Remember that crossing the border into Canada means that you'll be in a foreign country. That means you'll need to utilize a credit card with no foreign transaction fees (or be stuck paying an extra 3% on every purchase) and make sure your phone plans include coverage in Canada.
Many phone plans in the U.S. come with unlimited calling, texting and data in Canada, but you'll want to double-check before your trip. A few texts or hours worth of using data could cost you a year's worth of phone bills.
9. Don't Forget Your Passport
I touched on this earlier, but don't forget your passport when visiting Niagara Falls, Ontario. It's located in Canada, and they won't let you cross the border without it. The last thing you want is to get there, with your entire trip booked and paid for, and not be able to enter Canada because you forgot your passport.
10. Have Cash Ready for the Border Crossing
Speaking of crossing the border. The easiest and cheapest way to cross is by foot, which will cost you $1.00 per person each way if you're on foot or $4.00 per car each way if you're driving. If you're walking, you must bring cash with you, as they don't take credit cards.
The walk-through toll booth only takes quarters, but there's a quarter machine right next to it. I suggest taking a $1 bill unless you want to walk around with a pocket full of quarters.
11. Save Some Cash in the off Season
As with many places in the world, you can save a pretty penny by going in the off-season (late fall to winter). Hotels will be cheaper, there will be fewer people crowding around to get photos and the Falls don't freeze over, so you still get a tremendous experience.
One Day in Niagara Falls Itinerary
If you only have one day in Niagara Falls, I highly recommend taking the Hornblower boat tour first thing in the morning. Going early enough allows you to beat the crowds so you spend less time waiting in line and more time seeing the Falls.
After the Hornblower, walk alongside Niagara Parkway and see the falls from different vantage points, ending at the Journey Behind the Falls. From there, head out on a hike to either the American side of the falls or Niagara Nature Center.
If you rent a car, head out to Niagara-on-Lake for a later afternoon lunch and winery tour. Since everything's in such close proximity, you can get a ton of stuff done in a single day and make your visit as memorable as possible!
Get the Right Gear for Your Next Adventure Today!