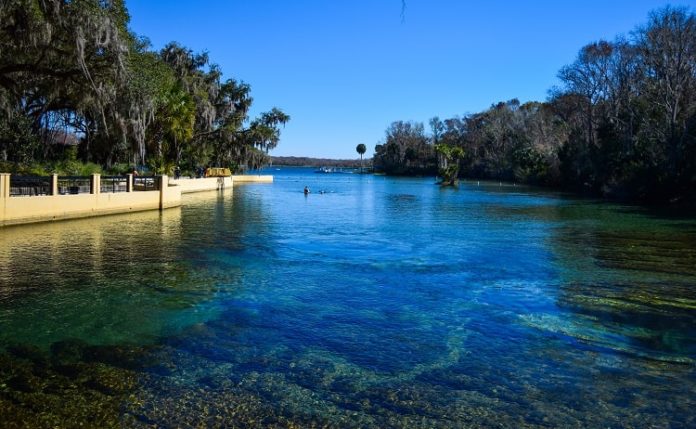 I donate 5% of this blog's revenue to the Leave No Trace Center for Outdoor Ethics, so you're helping save the planet by clicking on any affiliate links or ads that may be on this page!
Salt Springs has the typical, crystal-clear water which remains 72-degree year-round, a Florida staple and why the state is prominently known for its hundreds of springs. But Salt Springs Recreation Area in Ocala National Forest is anything but typical.
Between its vertical fissures, cracks in the earth's surface that pump millions of gallons of crystal-clear aqua-tinted water into a pool for swimmers to enjoy, Salt Springs emits a different kind of water than what's found in your everyday Florida spring.
Sodium, potassium and magnesium salts infiltrate the 72-degree freshwater to give it a slight salinity. It continuously pumps and bubbles up from within the earth to pools at the Salt Springs Run mouth before dispersing into the St. Johns River at Lake George.
Although there are traces of salt found in the water, Salt Springs' name can confuse you at first glance. If you're thinking of salty ocean water, that's not what you'll find here.
You will find a fascinating spring surrounded with Spanish moss that hangs down from nearby tree limbs. You'll find a 1,000-plus-square-foot natural pool of water perfect for swimming, snorkeling and exploring.
You'll find a roped-off area that keeps people from entering the river but does nothing to deter the 4-plus-foot fish from entering the sanctity of Salt Springs, a place they can survive without worrying about fishermen.
At Salt Springs, you'll find an atypical Florida Spring that offers swimming and snorkeling in its waters and camping, hiking, kayaking, canoeing, boating and fishing in its diverse Salt Springs Recreation Area.
Salt Springs Swimming and Snorkeling
Although the average depth of Salt Springs is between 2 and 3 feet, there are two limestone fissures on the far side of the river measuring about 8 feet. They go deeper, but it'd be too tight of a fit to be safe while exploring them.
Given the shallow depth, the Salt Springs Recreation Area is best for lounging and relaxing under the Central Florida summer sun. You can take a snorkel and mask and catch a glimpse of some of the smartest fish the area has to offer.
These fish make the spring their home during the daylight because they've figured out fishermen can't get them there. They're quick little buggers, so they can easily avoid human contact, even in the dog days of summer. Since they've eluded fishermen for so long, they casually swim by at around 3 to 4 feet long.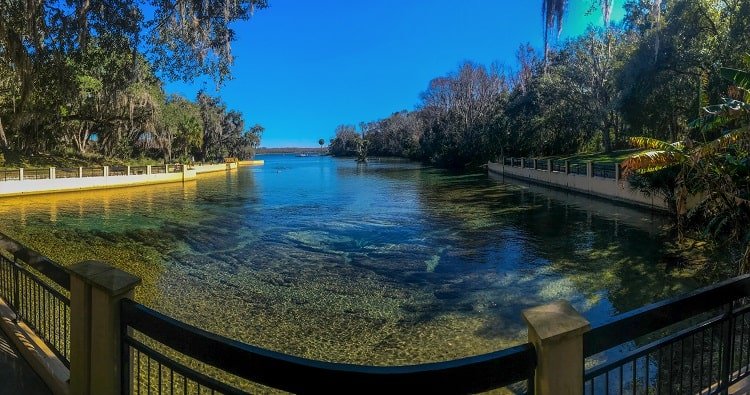 Canoeing, Kayaking and Boating at the Salt Springs Recreation Area
If you plan on kayaking or canoeing at the Salt Springs Recreation Area, you're in luck. The 4.5-mile run from the mouth of Salt Springs to Lake George is a relatively wide run with little shade and no currents.
Since it is so wide (and shared with boaters, so be careful), you can make the 4.5-mile paddle to Lake George, turn around and come back without leaving a car there or paying someone to take you back.
The Salt Springs Marina is where you'll put your kayak and canoe in, and it's also where you can put a boat in. There's some pretty good boating once you hit Lake George and there's quite a bit of fishing along the way.
Canoe & Kayak Rentals:

$16 for 2 hours; $24 for 4 hours; $38 for a full day
Hiking in Salt Springs Recreation Area
There isn't much in the form of hiking in Salt Springs, but you will find two scenic trails. The first is Bear Swamp Trail, which is a scenic loop trail that departs and arrives back at the Salt Springs Campground, directly between the tent campground and RV campground.
Bear Swamp Trail
Salt Springs Observation Trail
Distance

: 1.9-mile loop

Difficulty

: Easy

Elevation Gain

: 49 feet

Amount of Time Needed

: 40 minutes

Trailhead Coordinates

:

Highway 19 Entrance
Salt Springs Camping
Compared to the other springs in Central Florida's Ocala National Forest, the Salt Springs campground is gigantic. They have 160 sites, 54 are primitive and 106 have full hookups with electricity and water. The campgrounds are essentially divided into two sections, split by a large overflow parking lot where visitors can park or you can leave extra cars.
Due to its sprawling sand scrub, many campgrounds in Ocala National Forest are well shaded, but you won't find the same terrain at Salt Springs. If you're doing some Salt Springs camping at the RV sites, you'll find there are hardly any trees at all. Tent campers have more coverage, but it's far from what's offered by nearby Alexander Springs or Juniper Springs.
There are bathhouses with flushing toilets and hot showers on the premises and, in true Ocala National Forest employee manner, they're kept very clean.
The only downside of the Salt Springs Campground is that you may be walking a decent distance from your campsite to the spring and back. In cooler months, that's not an issue at all. However, during the heart of the Central Florida summer, the lack of coverage can heat things up quickly.
Campsite Price

: $23 per night for primitive sites; $34 per night for full hookup sites
Salt Springs Entrance Fee
The Salt Springs entrance fee is $6 per person, per day unless you have the Ocala National Forest Recreation Area Pass, which costs $60 and is grants you entry into every spring in the forest for a year from the date it was purchased.
If you plan to visit the springs many times throughout the year without camping, you may want to look into buying the pass. However, the day-use fee is always included in your per-night camping stay, so campers don't have to pay this extra fee.
Salt Springs Daily Fee

: $6 per person, per day
Related Articles:
Get the Right Gear for Your Next Adventure Today!