I donate 5% of this blog's revenue to the Leave No Trace Center for Outdoor Ethics, so you're helping save the planet by clicking on any affiliate links or ads that may be on this page!
For people who love the outdoors, there are so many epic things to do in Moab, Utah. It has quickly and quietly become an epicenter for hiking, biking, rafting, kayaking, rock climbing, off-roading, exploring national parks and getting a close-up view of petroglyphs carved into the sides of rocks and cliffs hundreds of years ago.
There are all those activities and plenty more things to do in Moab, Utah, and that's what attracts hundreds of thousands of adventurous people from all over the globe each year to the desert wonderland.
If you're wondering what to do in Moab, you've come to the right place. The natural outdoor attractions are seemingly endless, and you could spend weeks in the Mars-like environment and still not get to do everything you wished to. So strap on your hiking boots, break out the climbing gear, pump up your bike tires and get ready to step back in time to one of the coolest and most untouched parts of the American West.
I can sure help you achieve one amazing weekend Moab itinerary that you'll be talking about for years to come! Let's get down to the nitty-gritty so you don't have to roll into town to take a few hours on a Sunday morning, like I did, searching for your next adventure.
10 Best Things to Do in Moab, Utah
1. Arches National Park
If you're a weekend warrior and wondering what to do in Moab, Utah — and are relegated to doing just one or two things due to Moab's location a few hours away from the nearest airport — I highly suggest that the first thing you do is explore Arches National Park. There are tons of arches you can see firsthand, including the famed Delicate Arch, which is on the Utah license plate, but there are also so many things to see that aren't arches.
Plus, the Devil's Garden Loop Trail is one of the best hikes near Moab. It's a 7.2- to 11-mile moderate-to-hard hike that takes you past seven named arches — including the famed Landscape Arch that's predicted to crumble in the coming years. Depending on which route you take and how early you begin, it'll take you a half-day to nearly all day to do this, but you'll still have time (maybe not the energy) to hike to Delicate Arch.
Although it's more well known for its namesake arches, Arches National Park is home to Balanced Rock, a 128-foot-tall sandstone rock carefully balancing on an eroding pedestal. Then there's the Petrified Dunes, Courthouse Towers and, well, just take a look at this article for everything the park offers in addition to its arches.
During my four-day stay in Moab, I wound up spending a day and a half at Arches National Park. There's so much to do and see here that you're going to have to pick your favorites and cross them off your list. There's always a follow-up visit.
Amount of Time Necessary

: Half day to full day
Related Articles
2. Canyonlands National Park (Island in the Sky)
The second-best thing to do in Moab is assuredly the Canyonlands National Park Island in the Sky district. It offers a stark difference in scenery from nearby Arches National Park and is only 40 minutes from downtown Moab and the entrance to Arches.
But don't get the Island in the Sky district confused with the Needles district. They're two separate destinations within Canyonlands National Park and are separated by a two-hour drive. The Island in the Sky district is the closest to Moab and Arches National Park, so you likely won't have time to hit the Needles district if you're hitting Arches and the Island in the Sky district.
The Canyonlands Island in the Sky district isn't too big either, so you can drive the entirety of the park in a little over an hour if you want to. But I'd recommend stopping off at a few places on the journey. You can see all of the following spots in half a day if you're quick!
Check out Mesa Arch (I know, I know, one of the most famous landmarks in Canyonlands is an arch), which is a quick 0.5-mile hike and features a picturesque view of the 1,000-foot-deep canyons with the La Sal mountain range in the background — all perfectly framed by the natural formation of Mesa Arch. It's truly a sight to see!
Next up is Grand View Point, Shafer Canyon and Green River — all overlooks that will take you about 10 minutes each to see, but you may want to stay a little longer than 10 minutes at each spot just to take in the sheer beauty unraveling before your eyes. I sure did. Each area offers some tremendous hiking as well.
If you have time, check out Upheaval Dome, a mysterious salt crater surrounded by canyons that has baffled geologists for decades. Seriously, they still don't know how it was formed. It's a moderate-to-hard 1.8-mile hike, so make sure you designate upwards of two hours for the hike because you'll want to stop to take in the scenery.
If you're an off-roader with a Jeep or another four-wheel-drive vehicle, White Rim Road is for you. But, it's a 100-mile dirt-road loop that takes three to four days to complete, so you'll have some serious decision making about the Moab things to do on your trip before you go.
Amount of Time Necessary

: Half Day
Related Article
3. Dead Horse Point State Park
So I didn't find out how beautiful Dead Horse Point State Park is until after I was 2,300 miles away from Moab. And once I finally saw the photos, I legitimately kicked myself for not checking out one of the most scenic Moab attractions in the area.
Dead Horse Point State Park is a small state park (compared to the vastness of Arches and Canyonlands) that has a few viewpoints and plenty of hiking trails. Since it's relatively small and so close by, (it's only 20 minutes from the entrance of Canyonlands National Park) it only takes up about an hour of your time to see it and a little more if you plan to hit some hiking trails.
Many people head to Dead Horse State Park at sunrise or sunset to capture amazing photos and enjoy a packed breakfast or dinner. If you go for the sunrise, bring a hot cup of coffee with you. If you go for the sunset, don't forget that cheap bottle of wine!
Amount of Time Necessary

: 1 Hour
4. Scenic Driving
Luckily for you, taking a scenic drive is ingrained in just about everything you do in Moab. That's because every single drive you take (even the one through downtown Moab) is extraordinarily scenic, especially the drive from the Arches National Park Visitor Center to the Devil's Garden Loop Trail, which is the end of the pavement in the park.
If you want to take some off-the-beaten-path journeys on scenic roads, I highly suggest Potash Road and Kane Creek Boulevard. Both routes follow the Colorado River and pass by spectacular hiking trails and petroglyph viewing sites (more on petroglyphs later because seeing those are absolute musts).
I've also heard the Utah Byway State Route 128 is pretty spectacular. I didn't get to do this route, but it does follow the Colorado River on the east side of Arches National Park.
Amount of Time Necessary

: 1 to 2 hours
5. Hiking
While you're going to do a ton of hiking in Arches and Canyonlands National Parks, there are a few trails outside of those national parks that are worthy of a trek. Two of my favorite hikes outside the parks were the Corona Arch Trail and the Poison Spider Dinosaur Track Trail.
The Corona Arch Trail is a 3-mile, out-and-back hike that culminates at its namesake, Corona Arch, and features a two-for-one payoff view of Corona and Bowtie arches. It's a moderate hike with a few difficult sections that'll take the average person anywhere from 1.5 to three hours to complete.
The most amazing thing about this hike is the two somewhat challenging sections it poses and the lack of people who know about and hike the trail. During my trek there, I only saw a few people pass by. When I got to Corona Arch, I only waited about 15 minutes until I had the entire place to myself. It was one of the best hikes in Moab and an even better experience to get it all to myself.
The second-best hike was Poison Spider Dinosaur Track Trail, which was much easier at just 0.3 miles. It gets the name from actual dinosaur tracks fossilized into the stones midway through. Before this path, I had never seen a dinosaur track outside a museum, and it was one of the most unique experiences I had in the area.
It's a two-for-one hike because it features two petroglyph sites at the top. They feature Indians riding horses and hunting bighorn sheep. It's pretty amazing to see Ute Indian art from hundreds of years ago still intact (more on the petroglyphs next).
Amount of Time Necessary

: 2 to 3 hours to complete both hikes
Related Articles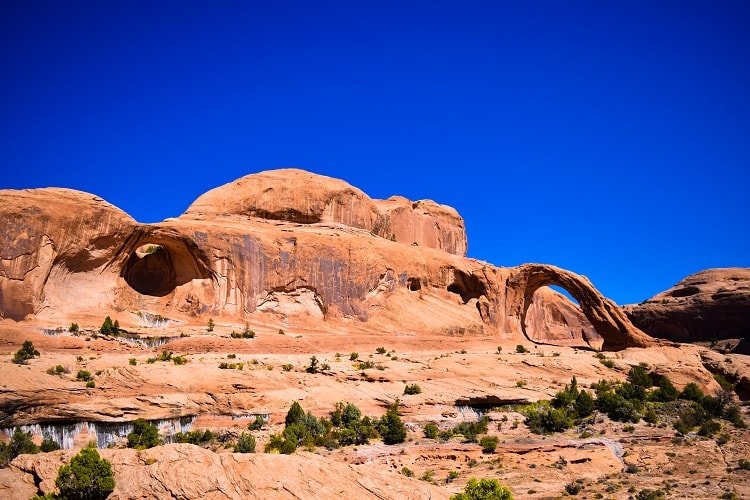 6. Petroglyph Rock Art Exploring
If you're wondering what to do in Moab and you're interested in human history, rock art exploring will blow your mind. There are two types of rock art found in Moab: petroglyphs and pictographs.
Petroglyphs are pictorial drawings carved into the surface of rock faces hundreds of years ago, while pictographs were painted or drawn using pigments or mineral dyes. Each is a process that was done hundreds of years ago by the Ute Indians in the Moab area. But worldwide, these techniques have been in the repertoire of prehistoric peoples for thousands of years.
The majority of rock art you come across in Moab will be of the petroglyphs because they're carved and painted pictographs have mostly washed or faded away through the years. Although you may still be able to see a few faint pictographs on Moab rock faces.
The most visited petroglyph sites in Moab are the Birthing Scene, Moon Flower Canyon Rock Art, Potash Road Rock Art, Courthouse Wash Rock Art and the Wolf Ranch Rock Art. I was lucky enough to visit the first three listed, and the Birthing Scene was by far my favorite. It's a four-sided rock on the edge of a cliff that has tons of pictures carved into it.
If you visit early in the morning, you'll have these petroglyphs mostly to yourself. I was in awe at the lack of crowds Moab rock art attracts, but then again, I was in awe at how few people even knew about the petroglyphs while visiting Moab.
Amount of Time Necessary

: About 1.5 to 3 hours to see all of the petroglyphs
7. Mountain Biking
If you mountain bike at home or you just want to give it a go, Moab is one of the best places in the United States to get your fix. While I have to bow out on the experience side of things because I simply didn't have enough time to go, there are trails for everyone from beginners to advanced experts.
From the scenic beginner Bar-M Loop trail to the moderately rated Slickrock Bike Trail, there are tons of mountain biking experiences in Moab for varying skill levels. Check out this in-depth guide put together by the fine folks over at Discover Moab.
Amount of Time Necessary

: Half day to a full day per trail
8. Rock Climbing & Canyoneering
Rock climbing and canyoneering are two more Moab activities I didn't get around to. Mainly because I've never been rock climbing outside of an indoor facility and didn't particularly want to make myself look like a jackass trying to get up the face of a cliff.
The area is home to thousands of accessible routes that fit every climber's level. Again, the folks at Discover Moab are your best source for getting a complete guide to rock climbing and canyoneering.
Amount of Time Necessary

: Half day to a full day
9. Off-Roading
Moab is a haven for off-road adventure. There are so many spots you can pull your four-wheel-drive vehicle off the side of the road and explore for hours on end. Unfortunately, I had a 2WD rental car (which I did take off-road a few times), but it wasn't enough to properly explore the area.
Since much of the terrain is tough, you must have a high-clearance vehicle, like a jeep or truck, to navigate much of it. From pristine scenery to challenging terrains, these off-road adventures are a short drive from Moab.
Amount of Time Necessary

: Half day to a full day
10. River Rafting
While river rafting near Moab isn't exactly the most budget-friendly thing to do, there are some pretty decent rapids in the area that'll give you an adrenaline fix. The rafting season typically runs from May to August, but you can get more mild trips from March to October. Since Moab is in the middle of the desert, river rafting is a nice way to cool down after hiking, biking or climbing the first half of the day.
Amount of Time Necessary

: Half day to a full day
Since there are so many things to do in Moab, Utah, you'll only be able to select a few things on this list if you're visiting for a three-day trip, which is about how long many people stay in the area.
I wound up seeing a ton of arches in Arches National Park and Moab, exploring many hiking trails in Canyonlands National Parks, hiking a few trails outside the parks, taking a few Moab scenic drives and exploring a few notable petroglyphs sites during my four-day trip. I highly recommend doing all of these things!
But if you're more into mountain biking, rock climbing or off-roading, I suggest subbing those out for some other Moab activities on the list. Just don't miss Arches and Canyonlands! They're spectacular!
Related Articles
Get the Right Gear for Your Next Adventure Today!