I donate 5% of this blog's revenue to the Leave No Trace Center for Outdoor Ethics, so you're helping save the planet by clicking on any affiliate links or ads that may be on this page!
Arches National Park is home to more than 2,000 sandstone arches that have been naturally formed by wind and water erosion over the past few (or more) millions of years.
The park is equipped with 43 miles of extremely scenic paved roads perfect for photography and wanderlusting, more than 17 named arches you can hike to, an abundance of natural rock formations that don't take the shape of an arch and soooo much more!
This is everything you need to know for your visit to Arches National Park in Utah!
Arches National Park Entrance Fee
The Arches National Park entrance fee is $30, which gives you an Arches National Park pass that's good for unlimited entries within a seven-day period. Or you can buy the America The Beautiful Pass, which gets you entry into every National Park in the United States for an entire year, for just $80.
If you're hitting Arches National Park and Canyonlands National Park (you definitely should), go ahead and opt for the annual pass. Purchasing the annual or seven-day pass is super simple. You can buy it at the park's entry gate at each park on the day of your visit.
Arches National Park 2020 Entrance Fee:
Single vehicle

: $30

Motorcycle

: $25

Pedestrian/Bicycle

: $15

America the Beautiful National Parks Annual Pass

: $80

Southeast Utah Parks Pass

: $55
Arches National Park Hours
Arches National Park is open 24 hours a day, 365 days a year. Yup, the park never closes, so you can go as early as you'd like and stay for as long as you'd like. It's pretty cool! Just remember that you're not allowed to camp outside of designated areas and each campsite in the park charges a fee.
But you can camp at one of the many free camping sites outside of Arches National Park.
Arches National Park Elevation
Arches National Park sits about 5,600 feet above sea level in the middle of the desert. That's a similar elevation to Denver, Colorado, so it's a little more than a mile in the sky.
Although your breathing may become a little short after uphill, strenuous climbs, you really shouldn't have to worry about altitude sickness during your time at Arches National Park. The drive into Arches from Moab, Utah is where you gain much of the elevation, so you'll know during the drive if you'll be OK or not.
What to Do in Arches National Park
Since it's a National Park, the majority of your time will be spent hiking, biking on roads and paths, taking scenic drives, stopping off at lookout points and camping. They're pretty strict about staying on designated paths, so there's off-road riding or any of that to be had within the park.
If you're looking for a more of a thrill than the aforementioned activities, you'll find plenty of adventurous things to do around Moab, Utah, which is the small town at the base of Arches.
17 Named Arches of Arches National Park
There are 17 notorious named arches you can hike to within Arches National Park, but there are more than 2,000 documented arches in the park. If you plan to see every single arch within the park, you're going to need a few days to do so because you'll wind up hiking or trekking more than 30 miles (the first seven arches took me 11.5 miles to hike).
If you plan to visit Eye of the Whale Arch and Tower Arch and don't have a four-wheel-drive vehicle, you can tack on another 18 miles to that estimate.
Without further adieu, here are the 17 named arches you can hike to in Arches National Park, Utah!
Even though it doesn't show it on the map, I highly suggest hiking arches one to seven in the order they're listed here. If you do, and start early in the morning (before 9 a.m.), you'll catch each arch with the perfect sunlight and capture amazing photos!
1. Tunnel Arch
Tunnel Arch was the first arch I had seen with my own two eyes and it was pretty cool. Because of the sheer volume of rock still surrounding it, it obviously wasn't the most impressive, but it's only about 0.3 miles into the hike, so it's a quick payoff view!
Tunnel Arch Hike Length

: 0.3 miles – extremely easy
2. Pine Tree Arch
Pine Tree Arch was second on the hike, but it was the first arch you could walk through! It was cool seeing an arch directly on the red-sand ground, but it was still surrounded by a ton of rock, ultimately securing its structure in a little easier than standalone arches.
Pine Tree Arch Hike Length

: 0.5 miles – extremely easy
3. Landscape Arch
Now we're talking! If you're headed to Arches National Park, one of the arches you've probably seen that swayed your decision to visit is Landscape Arch. It's an extremely thin and delicate arch that spans over a slope and almost looks like it's going to break right before your very eyes.
For how quickly you see it into the hike and how accessible it is to the Devils Garden trailhead, Landscape Arch is ultimate payoff views. After Landscape Arch, the trail quickly turns from easy to difficult.
Landscape Arch Hike Length

: 1.6 miles – easy
4. Double-O Arch
There are some pretty obvious perks to pushing yourself past Landscape Arch and onto Double-O Arch. The first stems from the difficulty of the path directly after Landscape. The trail gets pretty tough, so all the people who have trouble walking without help and aren't in decent shape get weeded out (this includes many young children and older folks).
Since so many people get weeded out so easily, that means there are fewer people toward the latter arches and far fewer people posing for selfies, taking their sweet time to get that payoff shot. To get to Double-O Arch, you must test your ability to deal with heights and narrow paths on your trek across Rock Fin while traversing Devils Garden Trail!
Don't get me wrong, I'm all for snapping great photos, but I wait my turn, take a few quick shots from different angles and then observe from afar while everybody else takes their turn.
Ohhh ya, I almost forgot! You can walk around Double-O Arch and find yourself at a (pretty steep) path on the backside. I was the only one up there and snapped this sweet photo from above! I also motioned a few people at the bottom to join me and they were in awe when they made it to the top!
Double-O Arch Hike Length

: 4.2 miles – difficult from Landscape Arch
5. Private Arch
Not too many people make it to Private Arch because it requires an 11-miles roundtrip hike to get there. Let me be the one to tell you, it's worth the hike! It's a picturesque arch set at the bottom of a protruding hill, which you can walk down and under the arch.
I'd have to say that the views looking the opposite direction of Private Arch are worth the hike there (and may be better than the actual arch itself, whoops).
Private Arch Hike Length

: 5.5 miles – moderate from Double-O Arch
6. Navajo Arch
Navajo Arch was pretty spectacular because it's carved out of a cave-like structure. Seriously, how in the world can something like that happen?!?! The only bad thing about Navajo Arch is that it's pretty much always shaded inside the arch, so snapping a solid photo is pretty difficult to do without the proper camera.
Navajo Arch Hike Length

: 3.0 miles – difficult from Landscape Arch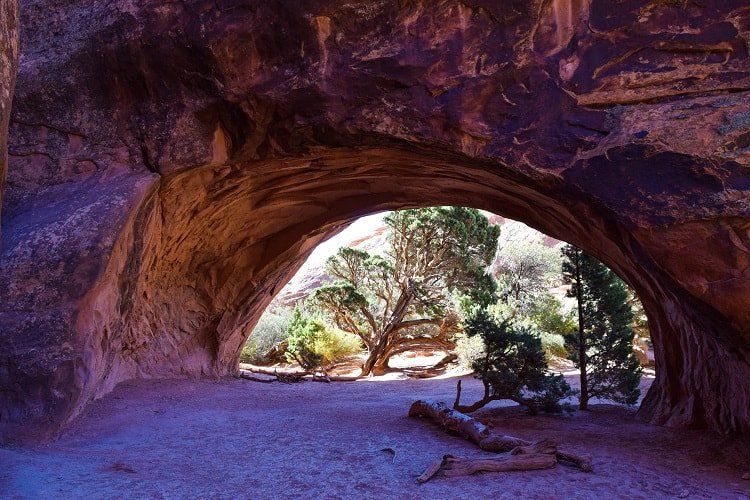 7. Partition Arch
Due to its extraordinary location and spectacular scenery through the center, Partition Arch tops the list as my favorite arch within Arches National Park (although it doesn't top the list of my favorite arches in the Moab, Utah area).
It's absolutely incredible to see such a vast landscape through the center of Partition Arch. Just take a look at that picture below! You have steep, red cliffs in the backdrop and plains separating Arches National Park from the steep La Sal Mountain Range in the background!
That view is exactly what I went to Utah for! Not that particular view, but a view of all the above wrapped into one.
Partition Arch Hike Length

: 3.2 miles – difficult from Landscape Arch
8. Skyline Arch
Soooo, I have to be honest with you here. Although I hiked to other arches in Utah, I only hiked to the first seven arches on the list. Altogether I spent 17 hours traveling the previous day, flying from Fort Lauderdale to Denver and then driving to Moab.
I was on an 11-day trip that still included Canyonlands National Park, exploring the area around Moab, and then navigating my way through Southwestern Colorado, Ice Lake Basin Trail and Copper Mountain before crashing in my uncle's spare room in Golden for a few days. The trip was packed, but I have vowed to get back to Arches National Park sometime and see the remaining 10 arches firsthand!
Skyline Arch Hike Length

: 0.4 miles – easy (only arch on trail)
9. Sand Dune Arch
You can find Sand Dune Arch on the same path along with Broken Arch and Tapestry Arch. From what I'm told (and have researched) it's an extremely easy trail that I really regret not mustering up the strength to hike. Oh well, there's always next time (although I try not to live my life by that motto).
Sand Dune Arch Hike Length

: 0.3 miles – easy
11. Broken Arch
As I look at the pictures of Broken Arch again, I'm slightly haunted by the fact I traveled all the way to Utah from South Florida and didn't get to see this beast of an arch.
Broken Arch Hike Length

: 1.3 miles – easy
12. Tapestry Arch
All I can say is that I wish I would've been able to see Tapestry Arch because it looks so cool!
Tapestry Arch Hike Length

: 0.6 miles – easy
12. Delicate Arch
Ahhhh now here we've come to Delicate Arch. You may recognize it from Utah license plates, the state's welcome sign and a few million Instagram photos that likely drew you to Arches National Park in the first place. It's the self-proclaimed "Famous Arch in Arches National Park."
There are three ways to see Delicate Arch. The first is to walk a few hundred feet from the parking lot and view it from the lower viewpoint (which is what I did). The second is to hike a half-mile to the upper viewpoint and take it in. The third option is to hike the 3-mile trail and see it close-up.
The first time I visited Arches in October of 2019, I had already hiked a solid amount of miles and my knee was in pain. So I had to by-pass the full trail and experience it from the viewpoint.
When I went back to Arches in September of 2020, I made sure to hike to Delicate Arch. Instead of just schlepping it up during the day, I made the decision to do a sunset hike to see Delicate Arch in all its colorful glory.
After seeing the arch, which will unfortunately fall someday, glisten with shades of red, orange, pink and purple due to the spectacular sunset, the 3-mile hike quickly became my favorite in all of Moab.
Delicate Arch Hike Length

: 3 miles – moderate
13. Pothole Arch
A pretty unimpressive arch (if there is such a thing) compared to the others that you can see by pulling off the road. You may want to walk a few hundred feet to get the full scope of what it looks like.
Pothole Arch Hike Length

: 0.0 miles – pull over at a lookout point
14. Double Arch
Double Arch is another one that took two trips to see. I'm partly disappointed in myself that I didn't get to see the first time but kind of glad I got to experience it as the first hike during my second visit to Arches.
Double Arch is fairly unique to the park, as it was formed as a pothole arch due to water erosion from above instead of erosion from the sides. That's why Double Arch has a giant opening from the top and a large opening that's slanted from the side.
Its top opening is breathtaking and it's the tallest arch opening in the park at 104 feet and the second longest behind Landscape Arch at 148 feet wide.
Double Arch Hike Length

: 0.5 miles – easy
15. Turret Arch
Turret Arch, more like a castle made of rocks or something like that. It's a really cool-looking arch that I stopped by on my second visit to Arches. It's an easy hike that's included in the loop trail featuring Double Arch. I'd highly recommend taking in Turret Arch during your visit because it's a pretty spectacular opening with rocks structured on each side.
Turret Arch Hike Length

: 1.2 miles – easy
16. Eye of the Whale Arch
Now we're getting to the final two arches, which are located substantially far from the rest of the arches. Hiking 5.1 miles to see this relatively unimpressive arch just didn't appeal to me since there's so much great hiking around Moab.
Eye of the Whale Arch Hike Length

: 5.1 miles – moderate
17. Tower Arch
Last but not least (but certainly the furthest away from everything else) is Tower Arch. If you don't have a four-wheel-drive vehicle, you may run into a lot of trouble driving the 9-mile "road" from the main part of the park.
If it has recently rained or the ground is wet, I wouldn't even try to get there without a 4WD vehicle. You've been warned.
Tower Arch Hike Length

: 2.4 miles – moderate
Related Hiking Articles:
Best Time to Visit Arches National Park
The best time to visit Arches National Park is during the fall or winter months. Yes, it's a little colder, but you won't have to deal with the desert's intense heat or overcrowdedness of people that come during summer months.
Spring is also a great time because of the flower blooms, but it's also the rainy season in the desert, so you could be stuck in rain or driving your vehicle down unpaved roads that turn into mud. So, if you want the perfect number of people, weather in the 60s and 70s and a great time, opt for the fall months!
Where Is Arches National Park?
Arches National Park is located just outside of Moab, Utah, which sits about one hour from the Colorado border. Arches is about three and a half hours from Salt Lake City, a little over five hours from Denver and about six hours from Albuquerque, New Mexico.
How to Get to Arches National Park
Due to its location in the middle of the desert (there aren't any gas stations for about 60 miles between Moab, Utah and Grand Junction, Colorado), getting to Arches National Park can only be achieved by vehicle.
There are no train stations, Ubers or small airports that'll drop you anywhere close to Arches National Park, so you'll need to bring your own vehicle or rent one wherever you flew in from.
Can You Drive Through Arches National Park?
You can drive through Arches National Park, but you must stay on designated roads within the park. However, if you plan to strictly drive and not do any hiking, you're going to miss out on most of the cool Arches and scenery the park has to offer.
I have to admit, though. I was flabbergasted by the scenery on the drive through Arches National Park. If you don't hike, you'll still get pretty magical scenery through the park from your vehicle. Plus, it takes a solid two hours to drive in and out down every road Arches has to offer.
Related Articles:
Get the Right Gear for Your Next Adventure Today!